Thames Valley police chief Jim Trotman cleared of arson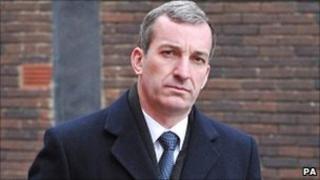 A police chief accused of torching his own car in order to frame his lover's husband has been cleared.
Ch Supt Jim Trotman, 45, of Thames Valley Police, was having an affair with Ian Gray's wife, Karin, when his car was set alight near Oxford in 2009.
Lawyer Mr Gray was arrested for the crime but later released.
Mr Trotman was found not guilty of arson, two counts of fraud and perverting the course of justice after a trial at Swindon Crown Court.
Thames Valley Police said Mr Trotman, 45, of West Quay, Abingdon, will remain suspended pending an internal disciplinary hearing on matters unrelated to the case.
After the verdict, Mr Trotman said he had always maintained his innocence.
Comforting his partner, Karin Gray, he added: "I would now like to get on with my life."
'Thoroughly investigated'
During the trial Mr Trotman was accused of dousing his own Citroen Picasso in petrol and setting fire to it after leaving it close to his lover's home in Boars Hill on 20 October 2009.
But during cross-examination he said: "I have no reason to set him up. Their marriage was over. It was not in my interest to harm Mr Gray."
He also told the court that hours before his car was set alight he had spoken to a senior colleague about several threatening e-mails he had received.
The e-mails reportedly showed Mr Gray had discovered the affair and had hired a private investigator.
Mr Gray was later exonerated when it emerged the e-mails sent to Mr Trotman had been sent by friends of Mrs Gray.
A spokesman for the lawyer said: "Anyone who knows Ian Gray will know that suggestions during this trial of his wrongdoing, both in relation to the fire and more generally, were entirely unfounded.
"He was devoted to his wife and family throughout their marriage and is now focused on supporting his children after this horrific episode."
After the hearing, Deputy Chief Constable Francis Habgood said: "Thames Valley Police expects the highest levels of both professional and personal conduct from its officers and staff.
"It is imperative that the police take all reports of crime seriously and this case was thoroughly investigated and a file was passed to the Crown Prosecution Service who decided that there was sufficient evidence to bring this case to court."