Volunteers in Oxfordshire 'buck national trend'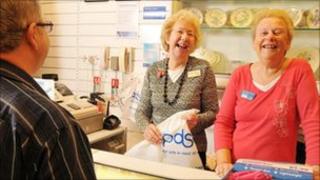 More people in the South East volunteer than anywhere else in the country, according to the latest figures.
An Oxfordshire charity say they have more people registered than any time in their 78-year history.
Nearly 1,700 people signed up with Oxfordshire Community Voluntary Action between April and December 2010.
Manager Alison Baxter, said: "We have been seeing an increase in the last couple of years and particularly once the recession started."
'Building skills'
She said the county was bucking the national trend.
In the same six-month period 24% of people in England volunteered at least once a month, in the South East that figure was 32%.
"A lot more unemployed people are coming forward. This may be because volunteering is quite a useful way of building skills and adding to your CV while you're looking eventually to get back into paid work," she said.
Despite the numbers who are volunteering there are still currently about 1,200 opportunities across Oxfordshire, ranging from charity administration and befriending to event organising and specialised disability training.