Oxford's tallest spire awarded £3.4m lottery grant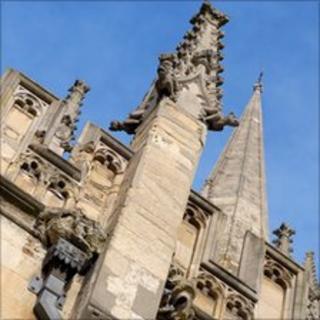 A famous Oxford landmark - which features the city's tallest "dreaming spire" - is to receive a £3.4m Heritage Lottery Fund grant.
University Church of St Mary the Virgin will be given a full-scale refurbishment and will become the focus of a conservation project.
The five-year scheme will help repair the church's facade, including the stonework, spire and tower.
Up to 200 people will be trained as guides on a new history programme.
Work will also be carried out to the church's interior and the Old Library will also be restored.
The Grade I listed building, which dates back to 1320, sits within Oxford's Conservation Area, St Mary's, and attracts over 300,000 visitors to the city each year.
Educational outreach
During the 13th Century, it was used for meetings of the university's ruling body and housed its first library, the predecessor to the world-famous Bodleian Library.
St Mary's vicar, the Reverend Canon Brian Mountford, said: "It comes after long and careful consultation with local people, national bodies, and professional advisers as to what is best for this iconic Oxford building.
"In the process we have been helped to think about widening our educational outreach as well as the conservation of the fabric."
Other establishments to make donations to the work include Clore Duffield Foundation, the University of Oxford itself, several trusts, plus money from several individuals.