Oxford Radcliffe Hospitals staffing levels criticised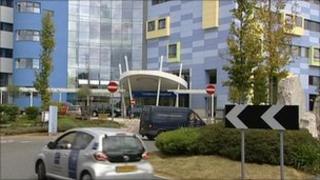 A health watchdog has raised concerns over staffing levels in maternity wards and waiting times for cancer patients at an Oxfordshire health trust.
The Care Quality Commission (CQC) warned Oxford Radcliffe Hospitals NHS Trust after a visit it needed to take action at its three main hospitals.
Health chiefs have been asked to produce an improvement plan.
Sir Jonathan Michael, chief executive of the trust, said there had been "significant progress".
The report, featuring findings of the September 2010 inspection, said the trust was not meeting all waiting times for urgent cancer cases.
Performance on waiting times varied, with a significant number of patients waiting more than 18 weeks after referral for treatment, it added.
The commission conducted the review of the John Radcliffe Hospital, the Churchill Hospital and the Horton General Hospital as part of a routine review.
Inspectors visited all three hospitals, talked to patients and staff and reviewed information on all 16 essential standards, four of which were found to have been breached.
'Wards worrying'
The trust's own data showed staff shortages, including the maternity unit at the John Radcliffe Hospital, where there were vacancies for midwives and obstetricians.
While staff levels varied between wards, there were also shortages of nurses, physiotherapists and pharmacists.
The report found that staff believed the surgical emergency unit in particular had been under "significant pressure", although there had been recent progress to recruit more nursing staff.
Roxy Boyce, regional director of CQC in the South East, said shortages in clinical staff on some wards were "worrying."
"Staff on the surgical emergency unit in particular told us that staffing shortages were affecting their ability to attend to patients in the way they would like," she said.
"Several staff commented that they felt they did not have enough time to talk to patients or enough time to give detailed explanations of care.
"Some patients are also waiting too long for their treatment and this of particular concern for some cancer patients who need to be seen urgently by a specialist after referral by their GP," she added.
The report said there was a generally "very positive" response from patients about their experience at all three hospitals.
Chief executive Sir Jonathan Michaels said there had been "very significant progress".
"In the five months since the CQC visit in September last, further progress has been made, many of the areas where they expressed concern about staffing levels have been addressed."
Dr Mike Smith, of the Patients' Association, said safety was "paramount".
"Staffing levels we hear about all around the country but even so more here in Oxford."