Oxford football boss fears season may not be completed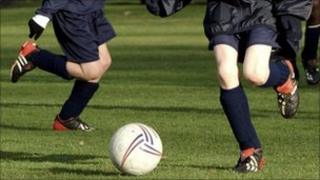 Young footballers might not complete the season's fixtures before the city's pitches are closed for renovation, a football boss has claimed.
All the clubs using Oxford City Council-owned football grounds agreed to complete matches by 20 April.
But Paul Lyon from the Oxford Mail Boys' League said December's snow meant that would be difficult.
The council said it was working with the affected teams to allow them to complete their football season.
Fixture secretary Mr Lyon said: "Normally we can extend the season to the second week in May but in the last couple of years the council have been bringing that forward.
"When the weather is good you'd have thought they would want kids out playing football rather than sat at home on their Playstations."
A council spokesman said: "We are doing all we can to ensure that matches can take place but we do have programme of renovation work to carry out on the pitches before the summer season starts."
Alternative pitches
Every time the league cancels a weekend's matches the Oxford Mail Boys' League have to reschedule 95 games.
The snow in December led to the cancellation of a month of matches, which has prompted the league to look for an extension to the season.
The council spokesman added: "Some clubs may not be able to finish their season on their usual pitch but every team will complete all their matches.
"I would also like to point out that the council ensures that we have a minimum of two pitches throughout the whole summer available for use."