Thieves hack off Bagot goat's horn during Bicester raid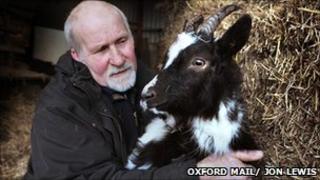 A rare goat is recovering after part of its horn was hacked off during a burglary at an Oxfordshire hobby farm.
Police are investigating and accused the perpetrators of lacking "basic humanity" in harming the animal.
The Bagot goat was injured during a break-in at the site in Launton, near Bicester, where a lorry and equipment were also stolen.
Landowner Derek Turner has offered a £5,000 reward in an attempt to track down the culprit.
The goat, one of 67 at the site, was found by Mr Turner on 18 January covered in blood, but it should recover.
Bagots are particularly friendly animals and he believed it would have gone up to the intruder.
High value
Mr Turner said he was considering selling up and moving after being targeted on several occasions by scrap metal thieves.
"It says these people are not very nice people," he said.
"It's like a pick-your-own, they just steal anything they want.
"The value of scrap is so high it's an easy fix."
Thames Valley Police said it was investigating the burglary.
A spokesman added: "This is a very horrible crime of specific intent which has caused severe disruption and inconvenience to the owner and showed a lack of basic humanity in the act of injuring the animal"