Oxfordshire's free Dial-a-Ride services saved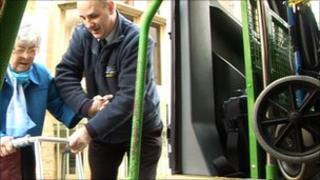 A bus service for the elderly in Oxfordshire will remain free after plans to charge for it were dropped.
On Tuesday Oxfordshire County Council decided to continue to fund the Dial-a-Ride transport.
But when they take responsibility for the service from the district councils in April any extra benefits to the free bus fare will be lost.
Conservative Councillor Ian Hudspeth said a uniform policy meant all districts will get the same service.
But it will mean that some people who get free taxi tokens or subsidies on their senior rail card will lose those benefits.
Sheila Legg who uses the local Henley Handibus to get to her local day centre, said she was happy the service had been saved because it was important for the elderly residents in the town.
"If we didn't have the Handibus these people couldn't get out at all," she said.