Oxford Utd's vandalised ox statue to aid cancer charity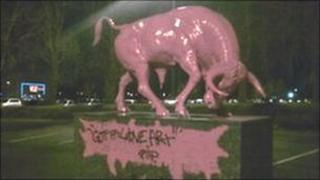 Oxford United football club is to raise money for a breast cancer charity after a statue at the ground was vandalised and daubed in bright pink paint.
The £25,000 bronze statue of an ox, which stands guard at the west end of the Kassam Stadium, was completely covered in paint at the weekend.
The words "gotta love art" were also painted underneath.
Supporters will be asked to give to Abingdon-based Against Breast Cancer at a home game with Shrewsbury on Tuesday.
A collection will also be held this Saturday ahead of a home match against Cheltenham Town.
'Positive impact'
Club chairman Kelvin Thomas said: "We are delighted to be making a positive statement following the disappointment of someone painting the bull pink.
"We had a few discussions over how to react and we decided the best way was to make it have a positive impact on the community."
He said he expected the statue to be cleaned next week.
The statue was funded by three firms and was unveiled in 2008 after three years of planning.
Police are appealing for witnesses.