Bassist Mick Quinn 'confident' of Supergrass reunion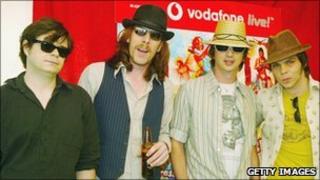 The former bassist of Supergrass has said he is sure the Oxford group will reform at some point in the future.
"I'm still on good terms with the rest of them and I'm confident we would probably reform at some point," Mick Quinn told the BBC.
Gaz Coombes, Danny Goffey and Quinn formed Supergrass in Wheatley in 1993. They split in April 2010 during the making of their seventh studio album.
Quinn was speaking ahead of the first major hometown gig for his new group.
"It's great to play with other people so I'm just playing it by ear at the moment," he said.
Quinn formed dB Band a month after the break-up of Supergrass with Paul Wilson on bass and Miikey Dean-Smith on drums.
The split of the Britpop legends, he said, was "a huge upheaval" and a "sad demise."
"People just wanted different things out of the record and eventually that's what split the band," he revealed.
"You can't put a gun to people's heads and get them to do what they don't want to do.
"Everyone needs to be happy when you're making a record. Otherwise it's not a band, it's a solo project."
dB Band's sound harks back to Supergrass's earlier, punkier songs.
"It's got my guitaring, which isn't as good as Gaz's," says Quinn. "There's a couple of songs where I swap over and play bass like old times.
"The easiest pointer I can give for people is it's just a bit more harder edged than Supergrass, not quite as poppy."
dB band have toured France with Lazare and provided support for Charly Coombes and the New Breed.
They next play on a bill that includes Oxford bands Fixers, Ute and Dead Jerichos at EquiTruck, at the Oxford O2 Academy on 15 January.
"I guess a lot more people are going to come along and see it, but because we're just doing it for fun it's less nervy," Quinn said.
dB Band intend to release their first EP in the spring.