Wedding pictures stolen from Oxfordshire newlyweds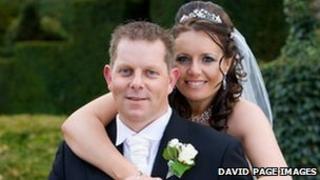 A newlywed couple from Oxfordshire have lost their wedding and honeymoon photos after their laptop and camera were stolen.
Marcus and Vicki Lockhart from Bampton had only been in their home for six weeks when they were burgled last week.
Mr Lockhart said: "We feel pretty low as we have lost precious memories of what has been the happiest time in our lives."
The couple, who married in October, are offering a cash reward for information.
'We are desperate'
The burglary is thought to have taken place between 0830 and 1530 GMT on Friday 7 January. The thieves got into the Lockharts' house through a patio door.
The pictures taken were of their two-week honeymoon to Miami and Key West in Florida, as well as personal photos of their wedding day.
Other items stolen include a rosewood jewellery box containing items given to the couple by relatives, as well as an Xbox computer console, a TomTom sat-nav and two iPods.
Mr Lockhart said: "We are appealing to anyone who has information on the burglary to contact the police as we are desperate to get our belongings back, especially the photographs which cannot be replaced."