Complaints over Oxfordshire Royal Mail postal delays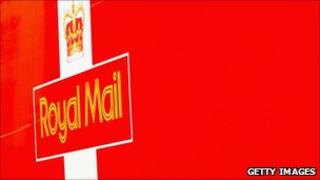 Residents have complained about the postal service in Oxfordshire after a BBC survey showed only 28 out of 50 letters arriving on time.
The Royal Mail aims to deliver first class post the next working day.
But after four days 15 letters had still not arrived at their destination in the BBC's experiment.
The Royal Mail said its most recent figures showed that more than 92% of first class mail was delivered on target.
The Royal Mail had 13,230 complaints in Oxfordshire during 2009/2010, paying out £125,077 in compensation.
One complainant, Sally Giffen, said her Christmas card arrived on 10 January.
Another, Helen Wright from Cumnor, said: "I have been trying to convince my mother that I have sent her a birthday card. My mother is convinced that I have merely forgotten her.
'Poor post'
"In fact I posted her card first thing on 5 January with a first class stamp. It should have arrived on my mother's birthday on 6 January. We are still waiting."
Ed Murray from Horspath, Oxford, said: "Our post has been poor for months with cheques and other items arriving weeks after they were sent.
"It's sad that what was once a proud and reliable service seems to be disintegrating."
Paul Moffat, regional secretary of the Communication Workers Union (CWU), said the bad weather and changes to the Royal Mail's infrastructure were to blame.
"The mail centre structure across the UK has been slimmed down over the years which we've been trying to defend while we were in dispute with the Royal Mail," he said.
"But we do have a three-year plan to modernise the business and make it a lot slicker and quicker for the general public."