Oxfordshire authors join fight against library cuts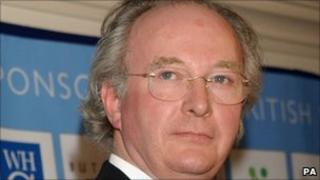 Two leading authors have spoken out about library cuts in Oxfordshire.
Inspector Morse author Colin Dexter said he was "shocked and ashamed" at proposals to close 20 of Oxfordshire County Council's 43 libraries.
Philip Pullman, author of the His Dark Materials trilogy, said he feared the loss of "special community centres, dedicated to knowledge".
But the Conservative-run council insisted it could not continue to provide the same services.
"Those who advocate preserving funding for libraries must indicate what other services should be cut to fund this given the extremely limited funding available," a spokesman said.
"A total of 82% of visits to libraries take place at the 23 libraries that the council currently proposes to continue to fund."
The council hoped volunteers would step in to help under Prime Minister David Cameron's "Big Society" plans.
Mr Pullman criticised the proposals and told the BBC that trained librarians "could not be replaced".
The author said he discussed the matter with Ed Vaizey, MP for Wantage and Didcot.
Council leader Keith Mitchell said: "What's better, no library at all or a library that continues and is supported by the community and is run at least partly by volunteers?
"We have to establish priorities but we also have to establish fairness and I think the library service has to take a share of the cuts to be fair."
The outcome of the proposals will be decided in February.
'Learning desert'
Nicholas Newman is part of the campaign to save Headington Library.
He claims 500 people signed a petition and that authors Brian Aldiss and Peter Hitchens have lent their support.
He said: "It's an essential part of our life. Without the library Headington is a cultural and learning desert."
Mr Mitchell responded to criticisms by saying: "When the community have stopped waving their banners and protesting there's a second stage to this.
"If they accept the inevitability that we can't afford to run all of these libraries what I'm asking them to do is work with us to see how we can preserve a library service."
The council needs to save between £155m and £203m up to 2015.