Oxford duck thefts spark police appeal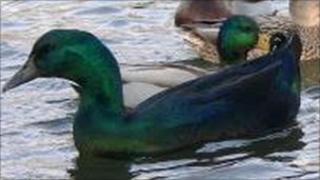 A family of ducks described as "much loved pets" have been stolen from a garden in Oxford.
Police were called after three Cayuga ducks worth £100 were taken during the recent heavy snow fall from a property off Horspath Road.
The birds are not capable of flying and someone's footprints were found in the fallen snow from the direction of the nearby Shotover nature reserve.
Officers are appealing for information about the thefts on 18 December.
Pc Rebecca Froud said: "These animals are very distinctive and were much loved pets of their owners.
"I would urge anyone who knows of their whereabouts, or who knows anything about their theft, to come forward and speak to me as soon as possible."