A third of Oxfordshire cancer cases diagnosed late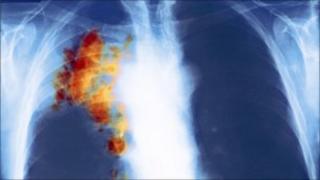 A third of cancer patients in Oxfordshire are in the advanced stages of the disease when they are diagnosed.
The figures have been released by the Thames Valley Cancer Network which says the problem arises because the public are not aware of the symptoms.
In Oxfordshire 2,337 people were diagnosed as having cancer in 2009.
Mark Palin, from the network, said: "If it's caught early it can be treated and you've got a much greater likelihood of having a successful outcome."
Diane McLeod, a cancer genetics research nurse at the Churchill hospital in Oxford, was diagnosed with bowel cancer in 2005.
Five months before her diagnosis she had visited her doctor and was told she needed blood tests but put them off for five months.
"I just thought, you know, you're a busy woman, you've just changed your job… just go off and pull yourself together," she said.
When she eventually had the tests done she was very ill and had to have major bowel cancer surgery followed by six months of chemotherapy treatment.
Dr Rosemary Gillespie, chief executive of The Roy Castle Lung Cancer Foundation, said: "Late diagnosis is a huge problem.
"Many people don't know what to look out for and as a result they don't go to the doctor and that is what leads to late diagnosis and poor outcomes from cancers."
The Thames Valley Cancer Network is holding two public seminars where people can learn more. The first is on Monday 10 January, the second on Friday 14 January at the Conference Centre in Oxford city centre.