Oxford rapist nurse jailed over two attacks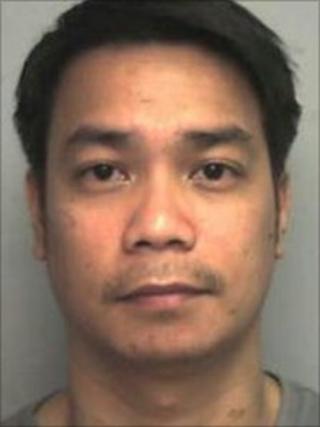 A former nurse has been jailed for nine years for raping one female patient and sexually assaulting another in Oxford.
Oliver Balicao, 37, of Bicester, but originally from the Philippines, had worked at the John Radcliffe Hospital.
He was convicted at Reading Crown Court last month of raping the 17-year-old in 2004 and indecently assaulting the 22-year-old woman in 2002.
Balico had already been jailed for having consensual sex with another teenage patient in a toilet in 2007.
The youngest of Balicao's victims said she was raped in a side room at the hospital's accident and emergency department in October 2004.
Spotted photograph
At the time her boyfriend and mother didn't believe her because she had been admitted following a drug overdose and had been hallucinating.
But she went to police after seeing Balicao's photograph in the news after he admitted having consensual sex with a teenage patient.
Balico was jailed for nine years for rape and 18 months for indecent assault, to run together.
Elaine Strachan-Hall, chief nurse for the Oxford Radcliffe Hospitals NHS Trust, said: "Nurses hold positions of great responsibility, and are trusted by patients and their families.
"It is never acceptable for a nurse in a position of trust to abuse that trust and take advantage of a person's vulnerability.
"Oliver Balicao has been found guilty of crimes committed in our hospital that abused his position.
"We are extremely sorry that this happened and that the patients who were the victims of these crimes, did not feel able to report the incidents at the time."
Det Con Lucinda Bevan, of Thames Valley Police, said: "The victims have bravely gone through the ordeal of giving evidence, several years after the incidents happened.
"I hope that they can now put this ordeal behind them."