Oxfordshire council leader tweet angers fee protesters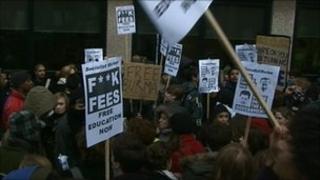 A tweet by the leader of Oxfordshire County Council insulting tuition fee protesters has sparked angry reactions.
Keith Mitchell wrote on his Twitter feed: "County Hall invaded by an ugly, badly-dressed student rabble. God help us if this is our future."
Students said they were furious at being described like this.
David Barkley, President of The Oxford University Student Union, said: "For them to be just slandered in this way is truly outrageous."
Mr Mitchell, who leads the local authority's Conservative group, responded to the criticism by saying: "This is a dangerous infection in our country which needs to be stamped on."
He said: "They need to go back to school and get back to their studies and learn how to protest in a peaceful manner without committing mass trespass."
On Tuesday about 30 students entered the building in Oxford. Some of them got on to the roof of County Hall.
They were protesting about the government's plans to raise tuition fees.