Oxford tuition fees protesters enter county hall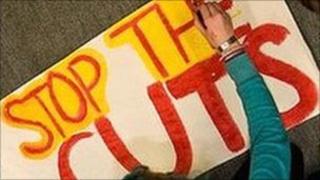 Students protesting against increasing tuition fees and university budget cuts descended on Oxfordshire County Council's headquarters.
About 30 students entered the building in Oxford, with dozens more chanting and holding placards outside and in nearby Bonn Square.
Thames Valley Police deployed mounted officers and moved the students on.
Students are staging marches across the UK in what is the third day of protests in the past fortnight.
A county council spokesman said: "We can confirm that a number of students entered county hall this afternoon, causing a minor disturbance as part of a protest.
"Police attended the scene and the students have now moved on."
Fees vote
There are also protests in London, Leeds, Birmingham, Sheffield, Edinburgh, Cambridge, Liverpool, Nottingham, Newcastle, Manchester and Bristol.
National Union of Students leader Aaron Porter has attacked the Liberal Democrats for failing to keep their promise to vote against raising fees.
MPs are expected to vote on the fees package before Christmas.
It remains uncertain whether Liberal Democrat ministers will abstain or support the proposals to increase tuition fees to up to £9,000 a year.
At the general election, Liberal Democrat candidates gave personal pledges to students that they would vote against any increase.
Business Secretary Vince Cable has said he might now abstain in the vote.