Convicted Oxford sex trafficker on the run from police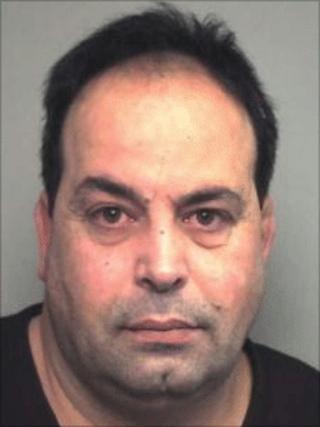 Detectives are trying to find an Oxford man who is on the run after being convicted of sex trafficking offences.
Anastassios Papas was found guilty alongside another man, aged 49, who cannot be named for legal reasons, at Oxford Crown Court on Monday.
The case was brought after concerns were raised about their Oxford escort agency Fun Girls.
Papas, 42, who was convicted in his absence, was also found guilty of controlling prostitution for gain.
Det Insp Simon Morton, of Thames Valley Police, said: "Papas is currently on the run, and we are doing our utmost to capture him.
"Human trafficking is the modern version of slavery, and I am pleased that in convicting these two men we have uncovered and dismantled this network.
Escort agency monitoring
"This is a wake-up call to all agencies in the county that this exploitation can be happening under our noses and reminds us all that we need to be vigilant to this type of crime.
"As a community, it's imperative that we protect young women and try to stop this vicious circle of abuse."
Papas, of Iffley Road, was convicted of five counts of trafficking women within the UK for sexual exploitation, conspiracy to traffic women within the UK for sexual exploitation and converting £67,075 of criminal property.
The other man was convicted of two counts of trafficking women into the UK for sexual exploitation and trafficking women within the UK for sexual exploitation.
He has been remanded in custody for sentencing at Oxford Crown Court on 21 January.
Thames Valley Police said, as a result of the case, a community partnership had been developed to raise awareness of trafficking and train organisations in how to help victims.
The teams will also monitor all escort agencies in Oxfordshire to ensure people working for them are adults working of their own free will.