Oxford students protest at university fees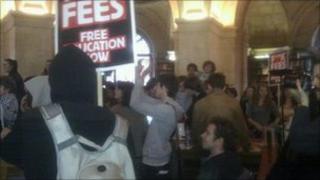 Hundreds of students and school pupils gathered in the centre of Oxford to protest about cuts in education funding and higher student fees.
Police said about 70 students occupied the Radcliffe Camera building at the University of Oxford with protesters vowing "to stay for hours".
University officials were on site trying to get them to leave and police were also called.
The sit-in was one of a number of protests throughout the UK.
Students from Oxford Brookes and Oxford University were joined by school children from across the county in a day of action.
Supt Andy Standen, of Thames Valley Police, said protests across the Thames Valley had been peaceful.
"There were walkouts by students in a number of towns but there was no disorder or disturbances," he said.
"We allocated some officers to monitor activity, but it didn't interrupt our ability to maintain our normal service to the public at all."