Royal wedding bun throw in Abingdon in doubt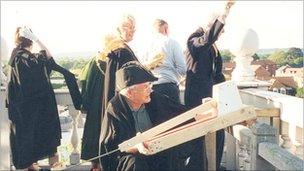 Civic chiefs have warned a bun throwing event to mark next year's royal wedding may not be possible.
Buns are traditionally thrown from Abingdon County Hall Museum, Oxfordshire, to crowds below to mark royal occasions.
Building work means it may not be safe to scale the building for Prince William and Kate Middleton's wedding.
The town council said it would attempt to work round the date so civic leaders could get on to the roof to throw buns.
If they can maintain the 250-year old tradition, 4,000 cakes will be hurled from the building.
Nigel Warner, clerk of Abingdon Town Council, said: "It is something we cannot guarantee due to the repairs.
"The building is having a top to tail restoration with a new roof, new electrics, so at some points next year it will be very hard to get to the roof to throw the buns.
"But we are confident when the wedding date is announced we will have enough time to put arrangements in place to hold the event safely."
Preparation for the repairs are already under way with building work set to finish at the end of next year.
Mr Warner said it was thought the first bun throwing from the county hall museum took place in 1761 to celebrate the coronation of King George III.
The tradition, which attracts thousands of people, has been maintained ever since and last took place in 2006 to mark the 450th anniversary of the Abingdon Charter and a visit by the Princess Royal to the town.
It is thought the custom is unique to Abingdon and was a way to reward the public on special occasions.
Related Internet Links
The BBC is not responsible for the content of external sites.