Oxford hospital nurse guilty of raping teenage patient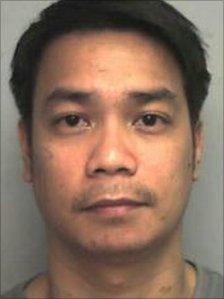 A former nurse at John Radcliffe Hospital, Oxford, has been found guilty of raping a teenage patient and indecently assaulting another woman.
Oliver Balicao, of Lerwick Court, Bicester, was a senior nurse when the offences took place in 2002 and 2004.
The 37-year-old indecently assaulted a 22-year-old woman in 2002 and raped a 17-year-old girl in 2004.
He was found guilty at Reading Crown Court and warned he faced a "substantial" sentence.
The youngest of Balicao's victims said she was raped in a side room at the hospital's accident and emergency department in October 2004.
At the time her boyfriend and mother didn't believe her because she had been admitted following a drug overdose and had been hallucinating.
But in 2007 the victim went to the police after seeing Balicao's photograph in the news after he admitted having consensual sex with another teenage patient in a disabled toilet.
Balicao's other victim told police he had forcibly kissed her when she was a patient in 2002.
Earlier judge Stephen John told Reading Crown Court that Balicao had committed a "grave breach of trust" and warned him "to expect a substantial sentence".
He is due to be sentenced next month.
Det Con Lucinda Bevan, of Thames Valley Police, said after the hearing: "All credit must be given to both victims for having the courage and tenacity to come forward, and not only make the complaint, but see it through to the end, which has been an extremely difficult and traumatic time."
Elaine Strachan-Hall, chief nurse at the Oxford Radcliffe Hospitals NHS Trust, said: "It is really important to us that people feel safe when they come to hospital.
"We want to reassure patients that actions of this kind are extremely rare in healthcare settings."
Related Internet Links
The BBC is not responsible for the content of external sites.