'No money' for Oxford bypass improvement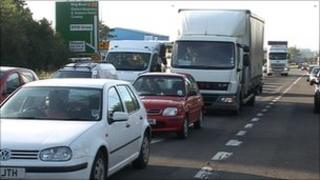 Council bosses in Oxford say no major improvements are planned for a road named the fourth-most congested in Britain.
Councillor Ian Hudspeth, of Oxfordshire County Council, said no money was available to help the Eastern Bypass.
He encouraged drivers to share cars to help ease congestion on the road.
A report by satellite navigation firm TomTom suggests traffic on the route is slower than free-flowing speed for about 86 hours a week.
The five-mile stretch, which has a 50mph limit, runs from Headington roundabout to Heyford Hill roundabout.
Mr Hudspeth said: "It's not something we're proud about being up there, we do recognise there is congestion. The difficulty for us is 'how do we tackle it?', 'what do we do?'."
Oxford Road in Cumnor was 21st in the list. Bedford Road in Clapham, London, was named the most congested road in Britain.