Mini Cooper power steering probed by US government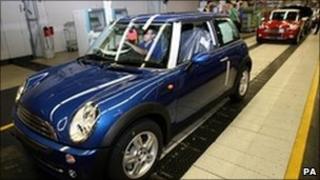 Mini Coopers built in the UK are being investigated by the US authorities into potential power steering problems.
A US government agency has received 54 complaints from drivers relating to power steering on the 2004/5 model, which was built at Oxford's Mini plant.
It said there were an estimated 80,000 of that year's models in circulation.
BMW, which owns Mini, said it would cooperate with the inquiry. It builds more than 200,000 models a year at its Oxford plant and sells to 74 countries.
Production began in 2001, in Oxford, which is the only Mini plant worldwide.
The complaints were brought to light by the National Highway Traffic Safety Administration (NHTSA), an agency of the US Department of Transportation.
A report on its website said it had received complaints that some drivers had reported "difficulty when trying to steer or control the vehicle".