'Terrible human cost' at Oxfordshire immigration centre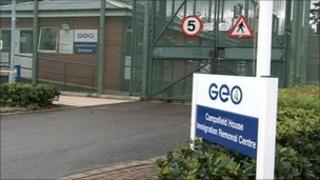 People detained for long periods in immigration removal centres such as Campsfield House suffer "a terrible human cost", a new report says.
The campaign group London Detainee Support (LDS) claimed some people were detained for years and has called for a maximum detention of 28 days.
The group also wants centres like Campsfield, in Oxfordshire, to only be used for people being deported.
A government spokesman said detention is used for the shortest possible time.
Alexis Wood, from LDS, claimed more than 200 of the 3,000 people who are being detained at 11 centres in the UK, had been held for more than a year.
She said the group has spoken to one man, who said he was released last year after eight years in the immigration system.
She described the conditions at Campsfield as "prison-like".
"We want to see various procedures put in place, so the civil liberties that the government has pledged to live up to, are actually seen through for everybody, not just British citizens," she added.
Bail option
David Wood, of the UK Borders Agency, said: "Where detainees refuse to cooperate with the removal or deportation process, they can cause their detention to be prolonged."
Mr Wood said detention decisions are made on a case-by-case basis and are reviewed regularly.
"Detainees also have the option of applying to the courts who will consider whether bail is appropriate," he added.
Campsfield House was converted into an immigration detention centre in 1993, and holds up to 200 men.
Over the past 17 years there have been a number of break-outs and hunger strikes by detainees.
The LDS's main focus is on Harmondsworth and Colnbrook Immigration Removal Centres near Heathrow Airport in London.