Study shows Alzheimer's gene affects young brains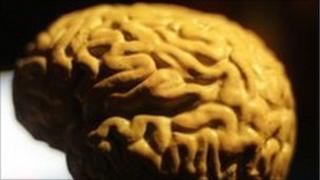 Scientists have found that a known risk gene for Alzheimer's disease affects the brain in healthy young people - decades before the disease develops.
The research by Oxford University has triggered a further study to look at why people with the APOE4 gene are more likely to develop Alzheimer's.
Only some people with the gene will develop the condition and not all people with dementia are carriers.
The condition affects more than 6,000 people in Oxfordshire alone.
'No cure'
In a recent study, the researchers looked at young people aged 20-35, and older people aged 50-78.
They found young healthy adults with the risk gene had normal memory and brain size, but differences in white matter - the communication pathways in the brain - compared to those without this gene.
Now a follow-up study, funded by a £91,500 grant from the Alzheimer's Research Trust, will look at how and why these differences occur.
PhD student Verena Heise will use state-of-the-art brain scanning techniques.
'Step further'
Ms Heise, who worked on the original project, said: "After more than a century of research, the cause for the disease remains largely unknown and there are still no drugs available to cure Alzheimer's.
"Research is the only way we will be able to find the solution, and I hope the results of this project will bring us a step further towards reaching that goal."
Her supervisor, Dr Clare Mackay, said: "Our research has found disturbances in the structure and function of the brain in young healthy people with the gene, and this new research is vital to tell us why those changes occur.
"We also hope the project will be helpful for understanding why some people are at a higher risk of developing Alzheimer's."
Dr Simon Ridley, Head of Research at the Alzheimer's Research Trust, said it was pleased to be funding the research.