Funding 'limits' transport plans for Oxfordshire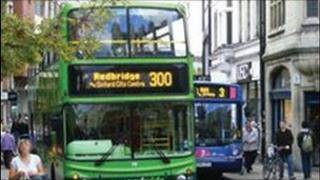 Oxfordshire's transport needs for the next 20 years have been set out at a county council meeting.
As well as road improvements the plans include new park-and-ride schemes and upgrades to railway stations.
However, a lack of funding means some of these proposals could be put on hold or scrapped.
The draft blueprint that would oversee improvements from 2011 to 2030 will now be considered by cabinet members before going out to public consultation.
The Conservative council is currently working on the basis of having to make £200m of savings up to 2015.
The council said in the short-term it was likely that money would be spent on maintaining existing road and transport systems and little cash would be available for improvements and expansion.
Consultation on the draft plan will run between 4 October and 9 January 2011.
The largest amounts of work are planned in those areas where big increases in homes and employment are currently planned such as Didcot, Wantage, Grove and the employment centres of Harwell Science and Innovation Campus, Milton Park and Culham Science Centre.
A total of 18,000 homes and 12,000 jobs are planned for these areas in future years up to 2026.
Bicester is another area where huge developments are planned and this is reflected in the proposals.
Councillor Zoe Patrick, leader of the opposition Liberal Democrat group and member for Grove & Wantage, said: "The problem with these schemes is they're planned far ahead and we don't know what money will be available.
"We hope the schemes in Wantage and Grove do go ahead but we don't know where the money will come from.
"Some of the schemes could be put on the back burner which could be disastrous for local communities."
The plans have been criticised as "disappointing and a lost opportunity" by local Green Party leaders, who wanted a more radical vision.
Councillor Larry Sanders, the Green Party Leader, said: "They do not seem to understand that a better transport strategy is a key element in reducing carbon emissions in the area, cutting congestion, and reducing pollution."
The Greens wanted the county council to focus on improving public transport links and speeding up the introduction of hybrid electric buses.
Head of Transport, Steve Howell, said: "By setting our priorities in the autumn we will be readying ourselves for a time when the country's economics are in a better state, whenever that might be."