Tributes paid to PoW campaigner Arthur Titherington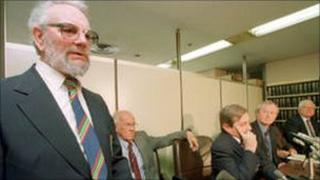 Tributes have been paid to a World War II labour camp survivor who campaigned for compensation for former Japanese prisoners of war.
Arthur Titherington, from Witney, Oxfordshire, died at the weekend aged 89.
Mr Titherington was captured by the Japanese army when Singapore fell in 1942 and spent three years at a prison camp in Taiwan.
The former MP Martin Bell called him a "fantastic man".
Of the 50,016 British military personnel taken captive by the Japanese, 12,433 died or were killed in captivity.
Mr Titherington, who chaired the Japanese Labour Camp Survivors Association, campaigned for many years for compensation and an apology from the Japanese government.
'Real crusader'
In 2000, the British government announced that former prisoners of war would receive compensation of £10,000 each.
Japan said the issue was settled when it made a token payment of £76 to the servicemen in the early 1950s, and has refused to offer further compensation or an apology.
Mr Titherington's solicitor, Martyn Day, said: "He was one of the most courageous and strong-willed people I ever met.
"His spirit was indomitable and would never take no for an answer.
"Britain has lost a real crusader."
Mr Bell said he was "a great man, a heroic man, humble and magnificent".
"He underwent experiences that we in our peaceful and orderly lives cannot imagine," he added.
"After he got out of those camps - and he as lucky to survive - he devoted the rest of his life to campaigning for his fellow survivors, not just for compensation but for knowledge of war crimes by the Japanese.
"I cannot think of anyone I knew all my life who was altogether so admirable."