Agency posts axed at Oxford's Mini plant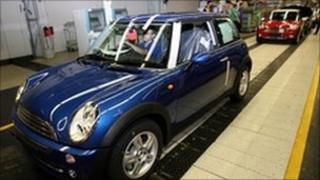 Up to 140 agency workers at Oxford's Mini plant are set to lose their jobs, with the company "uncertain" about future worldwide sales.
BMW, which owns the factory, said from November working hours will be cut so the plant can "respond flexibly to fluctuations in demand".
Production will stop on Saturday mornings and the plant will be closed at weekends.
About 4,000 people are employed at the plant, of which 800 are agency workers.
A spokesperson said: "While the company remains cautiously confident about the strength of the global automotive market, a good deal of uncertainty persists."
'Regrettable' decision
Managing director Dr Jurgen Hedrich said the workers have been at the plant since July on short-term contracts.
He said efforts will be made to help staff who have lost their jobs to find work with the company elsewhere in the UK.
"It is always regrettable when we are not able to extend the contracts of temporary workers," he added.
Mini bosses said they had agreed the new shift pattern with union representatives based at the plant. Staff will vote on the new system later in the month.