About 1,000 Oxfordshire County Council jobs 'to go'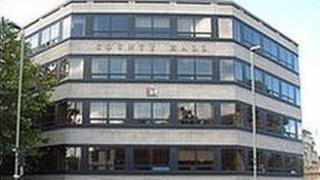 More than 1,000 jobs could be lost at Oxfordshire County Council.
Conservative leader Keith Mitchell says the council is looking to cut £200m over four years.
That is nearly double the figure the authority had expected to cut earlier in the year.
The final savings and job cut figures depend on the outcome of the central government spending review this autumn, Mr Mitchell added.
He said: "This is going to be hard. My best guess is about 1,000 jobs.
"If that doesn't sound very scientific, it is because it isn't yet.
"We don't know where we are until November when the government has done the Comprehensive Spending Review."
The council is the county's largest employer, with about 22,000 staff.
Labour MP for Oxford East, Andrew Smith, said: "I'm on the side of the people resisting savage cuts.
"The public at large would expect a measure of priority to be given to protection for services for vulnerable people."