Banbury man and parents avoid jail after wife abuse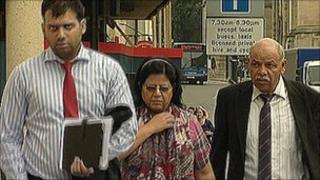 A man avoided a jail term along with his parents after they were convicted of assaulting and imprisoning his wife.
Saira Ahmed, 28, was hit at the family home in Banbury, Oxfordshire, while pregnant and again after giving birth.
Her husband Mudassar Ahmed, 29, and Iftakhar and Halima Ahmed, both 52, denied false imprisonment and causing actual bodily harm (ABH).
At Oxford Crown Court, Mrs Ahmed was given a nine-month suspended term, and the men six-month suspended sentences.
Mrs Ahmed was also told she would have to undertake 100 hours of community service.
Strict rules
Mudassar Ahmed and Iftakhar Ahmed were told they would have to carry out 80 hours each of community service.
During the trial, the court heard that in April 2006, Saira Ahmed married Mudassar Ahmed and moved into his parents' home.
Halima Ahmed set strict rules forbidding her daughter-in-law from going out of the house without her permission, jurors were told.
In June 2007, when Saira Ahmed was seven months pregnant, she was hit and kicked by all three defendants.
Two months later, after giving birth, she was assaulted again and locked in a room away from her baby.