Two Oxford swimming baths replaced by new pool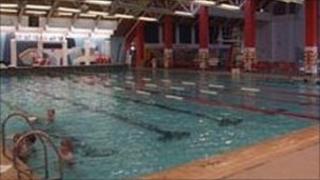 Two public swimming pools in Oxford are being closed by the council and replaced by another pool.
At a meeting on Wednesday night Oxford City Council voted to go ahead with the plans to shut Blackbird Leys and Temple Cowley.
The pools are said to be outdated and too expensive to run.
If sufficient funding is in place, the new pool will be built on a site adjoining Blackbird Leys Leisure Centre.
Campaigners fighting to save the pool in Temple Cowley have criticised the plan.
However, Ian Smith, from the City of Oxford Swimming Club said: "We are actually quite relieved with the decision because the alternatives were to close the [Temple Cowley] pool for two years for either a rebuild or a refurbishment.
"That's 50% of our pool time taken for two years so that would essentially, if not put us out of business, it would have made us restructure and downsize."
'Absolutely disgusted'
Jane Alexander, from the Save Temple Cowley Pool campaign group, said she wanted the pool to "stay open indefinitely".
"It's only 23 years old and I believe there's nothing seriously wrong with the building that maintenance wouldn't put right," she said.
"I'm still meeting people every day who haven't even heard that the pool is under threat, that the council wants to do this, and they're absolutely disgusted as soon as they hear about it.
"They say 'what can we do, is there a petition to sign?'."
The council said it would cost £24.2m to refurbish Temple Cowley Pool, and £24m to rebuild it.
It claimed it was more cost effective to build a new eight-lane pool in Blackbird Leys, along with a learner pool, which would cost £16.8m.
The Temple Cowley Pool will remain open until the new pool has been built, the council said.