Oxfordshire garden human remains date from 500 AD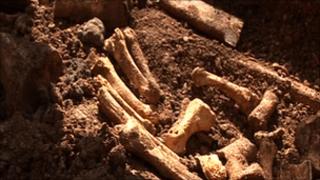 Human remains found in a Oxfordshire garden, sparking a police inquiry, have been dated back to 500 AD.
The bones were discovered by builders working in the garden of the house in Eynsham on Wednesday afternoon.
The site was cordoned off by officers but archaeologists believe the remains are of an Anglo Saxon adult male from more then 1,500 years ago.
They have been reburied at the site and the building work has resumed. The police inquiry has been closed.
Hugh Coddington, from the Oxfordshire Archaeological Service, said: "These remains form part of a small early Anglo Saxon cemetery.
"At the same time there was a small settlement around the site of the abbey and this is probably one of the cemeteries associated with the abbey.
"A number of isolated burials have been found in this area so they are not that unusual."