Two Oxford swimming pools set to be replaced by council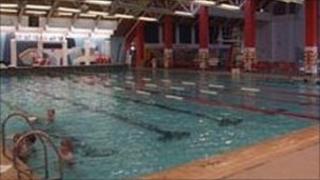 Two public swimming pools in Oxford are set to be closed by the council and replaced by one larger pool.
Oxford City Council said the pools in Blackbird Leys and Temple Cowley are outdated and too expensive to run.
A report has recommended they are both closed and a new pool built adjoining Blackbird Leys Leisure Centre.
But campaigners fighting to save the pool in Temple Cowley have criticised the plan. The city's executive board will make a decision in September.
Jane Alexander, from the Save Temple Cowley Pool campaign group, said: "There's a thousand reasons to keep it where it is.
'Not sustainable'
"Environmentally the idea of building new from scratch and knocking down two buildings doesn't make any sense to me whatsoever.
"You don't knock your house down when it needs a new boiler or a new sofa, nor should we knock down this much-loved and much-used building because it needs a new air conditioning unit and new seating."
The council said it would cost £24.2m to refurbish Temple Cowley Pool, and £24m to rebuild it entirely.
It claims it is more cost effective to build a new eight-lane pool in Blackbird Leys, along with a learner pool, which would cost £16.8m.
Tim Sadler, director of city services at Oxford City Council, said: "This really is driven by the fact that the Temple Cowley Pool and the Blackbird Leys pool as they are are not sustainable in the longer term.
"They don't meet the needs of people who are looking for high-quality modern accessible leisure facilities."
A public meeting will be held at Oxford Town Hall on Tuesday night for people to learn more about the options.