Cycle thefts increase in Oxford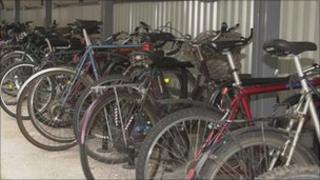 Thefts of bikes in Oxford are at their highest in five years, according to figures from Thames Valley Police.
Between April 2009 and April 2010, a total of 2,137 bicycles were reported stolen in the city - a rise of more than 350 from the previous year.
Police said an increase in the numbers of people cycling into Oxford had meant secure bike racks were at a premium.
Oxfordshire County Council said it believed there were sufficient places to park.
Sgt Claire Storry from Thames Valley Police said: "There aren't adequate, secure places to park bikes.
"Bike parts are being taken by opportunists. If bits are easy to take off, and wheels are not secured, then they are easy to steal.
"They are also easy to sell on if people want to make money out of them."
Councillor Arash Fatemian from Oxfordshire County Council said: "There is plenty of parking in the city.
"Many employers, both public and private, provide secure bike parking for employees.
"They might not necessarily be always in front of you, but I have always found somewhere to lock my bike."