Oxfordshire crash cyclist 'never forgotten'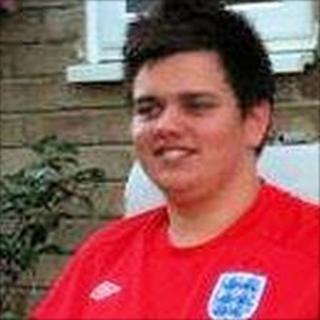 The family of a cyclist killed in a crash with a suspected drink-driver in Oxfordshire have paid tribute to him.
Thomas Kahl, 18, from Kidlington, was declared dead at the scene on the A4620 Banbury Road near Thrupp, Kidlington, on 10 July.
The 54-year-old male driver of the car was held on suspicion of causing death by careless driving while under the influence of alcohol.
Mr Kahl's family said the teenager "always had a smile on his face".
'Odd socks'
They added: "His passion was for football... although as his friends admit he was not the best he always gave a 110% for effort and enthusiasm and was ecstatic when he went to Wembley in May and watched Oxford United achieve promotion.
"He will never be forgotten and will be in their thoughts every minute and second of the day.
"He was never shy of expressing his emotions, always affectionate and expressed his appreciation and thanks for anything anyone did for him, he did not take anything for granted.
"His trademark was wearing two T-shirts and odd socks come summer or winter and his love of bright colours in particular his love for odd fluorescent laces in his trainers."