Nottingham bidding for £57m in levelling up funding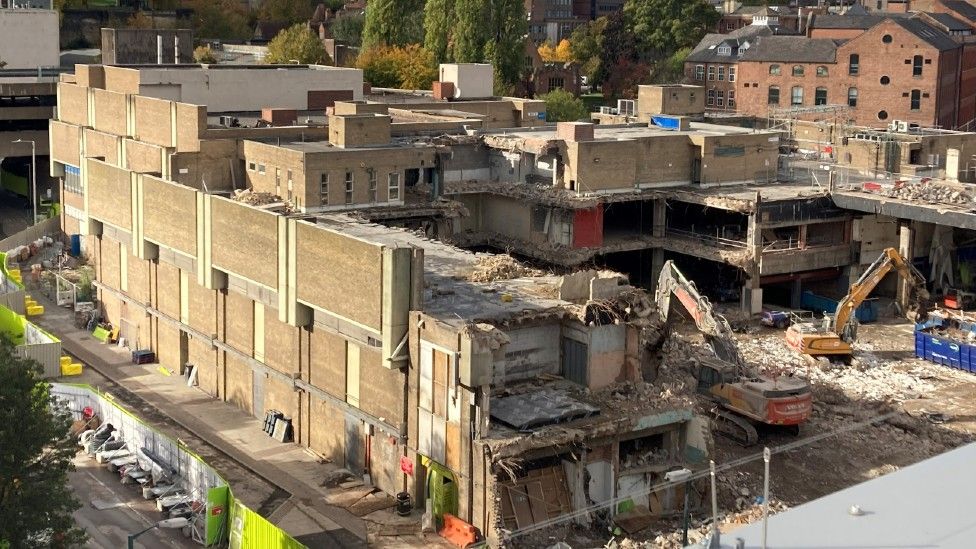 Bids for three projects in Nottingham totalling £57m are being submitted to the government's levelling up fund.
The proposals would see £20m going to the first stages of redeveloping the derelict Broadmarsh centre site.
Another £20m is earmarked for a revamp of Bulwell's centre, including creation of a "Promenade" with green spaces along the River Leen.
The remaining £17m would go towards restoring three warehouses at the centre of the Island Quarter site.
The levelling up initiative is designed to close economic gaps between different parts of the UK and includes £1.8bn for infrastructure investment on brownfield land across the country.
The Broadmarsh shopping centre was left half-demolished when owners Intu went out of business in 2019.
The city council is now applying for the money to start consolidating parts of the centre's structure as part of a masterplan unveiled last year.
A previous bid for funding to complete the demolition of the area failed in October.
Plans for improvements to Bulwell town centre include investment in the market place, restoration of heritage buildings and work to link public transport and shopping areas.
Part of the area is dominated by three large Victorian railway warehouses and the funding would put these back into use as a community theatre and creative spaces.
City council leader, David Mellen, said the Broadmarsh was "perhaps the most significant development site in the country right now" and Bulwell "has great potential which deserves to be realised".
He added: "The Island Quarter is a key site next to the city centre for which ambitious plans are already under way but support from the levelling up fund would help enhance further creating opportunities and improving access for local communities.
"These bids are the absolute essence of what levelling up should be all about, so we are hopeful of success."
Related Internet Links
The BBC is not responsible for the content of external sites.