Bilborough: Brothers jailed for stealing e-scooter from garage
By Tom Oakley
BBC News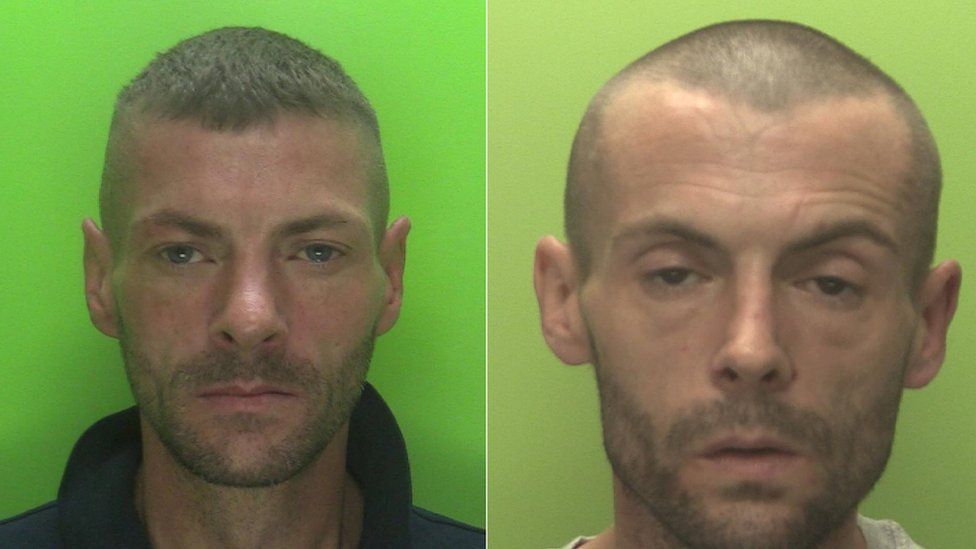 Two brothers dubbed "prolific offenders" who broke into a garage and stole an e-scooter have been jailed.
Robert and Roy Sisson forced their way into the garage in Hollington Road, Bilborough on 29 July.
The homeowner discovered they had been a victim of burglary a few hours after the brothers made off with the scooter.
Robert, 33, and Roy, 43, of Graylands Road, Bilborough, were jailed at Nottingham Magistrates' Court on Wednesday.
The siblings were arrested the day after the burglary when they were identified by police on CCTV in the nearby area.
Both brothers pleaded guilty to burglary and were jailed for four months.
They were also each ordered to pay £1,150 in compensation.
The court heard how following Robert's arrest, he was also charged with a similar burglary that took place in Robins Wood Road, Beechdale, on 11 July.
This time an e-scooter, tools and washing powder were snatched from a garage after he broke in through an unlocked door.
Det Cons Louise Turton, of Nottinghamshire Police's city burglary team, said: "Nobody should ever have to worry about someone breaking into their home and stealing items that don't belong to them, as Robert and Roy Sisson have now done on multiple occasions.
"Both brothers are prolific offenders who have continuously shown a complete disregard for the law, so we're delighted to see they have now been brought to justice.
"I sincerely hope they use the time they will now spend in prison to revaluate how they're living their lives and make changes for the better."
Related Internet Links
The BBC is not responsible for the content of external sites.