Teen receives FA award for saving life with CPR
By Jude Winter
BBC News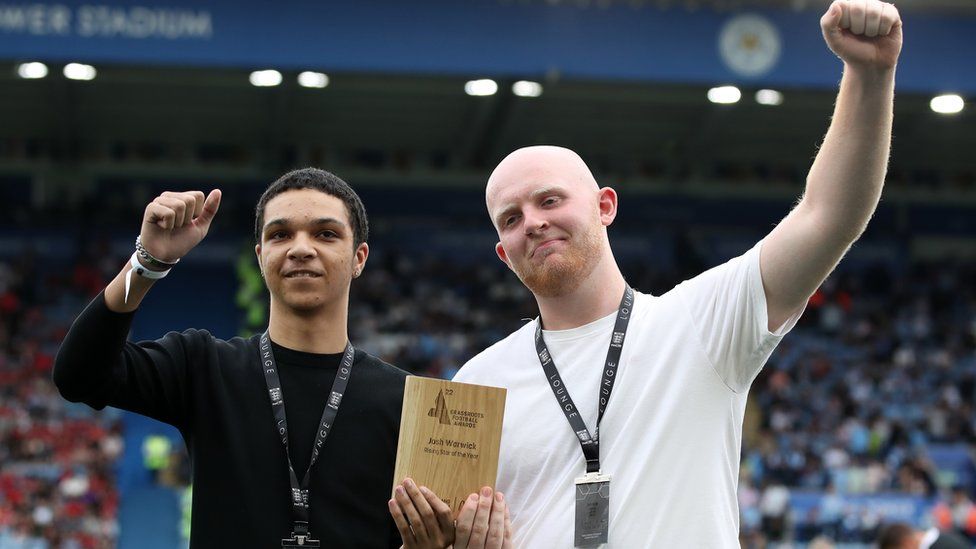 A Nottingham teenager has been awarded after saving a boy's life on a football pitch.
Josh Warwick performed CPR on Kye Wilson in October 2021, after he suffered a cardiac arrest playing football in Nottingham.
Mr Warwick, 19, has now been presented with a Rising Star award from the Football Association (FA).
The FA said Mr Warwick had "stepped up and taken control of an emergency situation."
Mr Wilson said: "Without him [Josh], there's a chance I wouldn't be here today."
Now friends, the pair were complete strangers to each other before Mr Wilson collapsed.
Mr Warwick said: "I was playing football and one of the young people I work with said someone was in trouble on another pitch.
"When we got there, he wasn't breathing so we started CPR."
Mr Wilson was taken to the intensive care unit at Nottingham City Hospital, where he was told by doctors he had a heart condition he had been unaware of.
Since being diagnosed, he has not been able to play sports again.
"The whole time I was in hospital I cried, knowing I couldn't play football," he said.
However, he has since become friends with Josh after a chance meeting several weeks later.
Mr Warwick said he had not been aware of Mr Wilson's state of health until they met up.
"I didn't know what happened to him for quite a while," he said.
"For about a month, I didn't know if he made it or not.
"For me, it was really important to see Kye."
Rachael Wilks, from Nottinghamshire FA, nominated Mr Warwick for the award.
She said: "Joshua is a great role model, helping to save another young player's life.
"He is helping the County FA to raise awareness of sudden cardiac arrests in young people and is also helping Kye and his family by supporting their campaign to also raise awareness of sudden cardiac arrest."
Related Internet Links
The BBC is not responsible for the content of external sites.