Robert Jenrick: Time for Boris Johnson to go, former minister says
By Heather Burman & Gavin Bevis
BBC News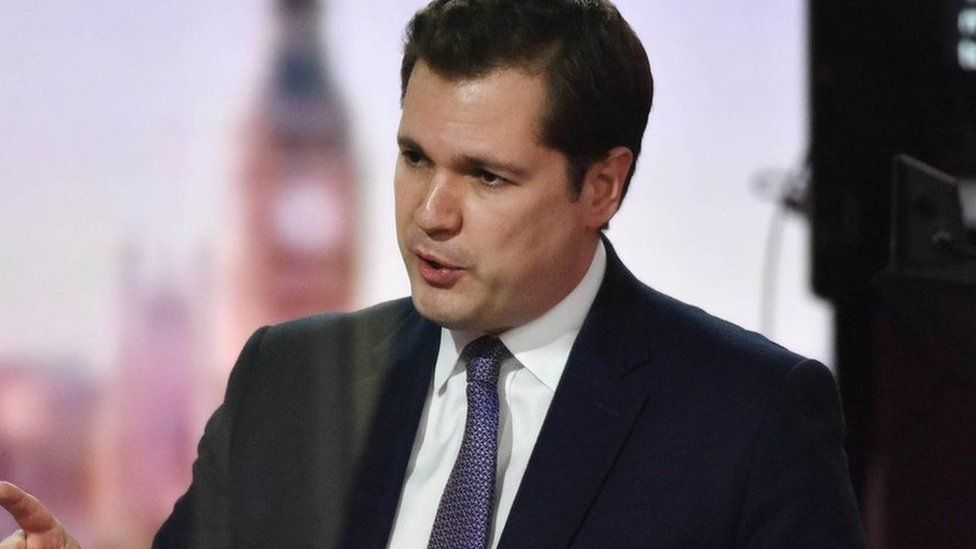 Former cabinet minister Robert Jenrick has joined a growing number of Tory MPs in saying Boris Johnson should not continue as prime minister.
The Newark MP, who served as communities secretary under Mr Johnson, said there had been an "irretrievable loss of trust" with the public.
He said the country would be best served by new leadership.
Two other East Midlands-based Tory MPs - Lee Rowley and Neil O'Brien - have also resigned as ministers.
The prime minister has seen a raft of resignations following the departure of Chancellor Rishi Sunak and Health Secretary Sajid Javid on Tuesday.
In a Facebook post, Mr Jenrick said: "It has become painfully clear that we are failing to provide the coherence, grip and direction that the country needs and deserves in these challenging times.
"More fundamentally, there has been a significant and I fear irretrievable loss of trust with the public, confirmed by the mishandling of serious allegations in recent days.
"If we continue along our present path, we risk doing lasting damage to the reputation of the Conservative Party for competence and good government and, more importantly, to the standing of politics generally."
North East Derbyshire MP Lee Rowley and Harborough MP Neil O'Brien have stood down from their roles as ministers for industry and levelling up respectively.
In a joint resignation letter with ministers Kemi Badenoch, Alex Burghart and Julia Lopez, the pair said it had become "increasingly clear that the government cannot function given the issues that have come to light".
Rushcliffe MP Ruth Edwards and Bolsover MP Mark Fletcher have also resigned from their parliamentary private secretary roles.
Mr Anderson said he had stayed loyal since being elected in 2019 but added giving Mr Pincher the job, having been told about earlier inappropriate behaviour, was "not a good appointment".
"I cannot look myself in the mirror and accept this," he said.
Mr Anderson highlighted the initial denial that the prime minister had been told about earlier allegations and then the change in the government's position to state that Mr Johnson simply forgot.
He added: "It is my belief that our PM has got all the big decisions right and guided us through the most difficult time in my lifetime and I have always backed him to the hilt.
"That said, integrity should always come first and sadly this has not been the case over the past few days."
Mr Anderson was elected for the Conservatives in the Nottinghamshire constituency with a majority of 5,733.
His victory was one of a number of wins in key marginals for the Tories in 2019, when Labour's "red wall" across the Midlands and the north of England crumbled.
Elsewhere in the East Midlands, Tory MP for Bassetlaw Brendan Clarke-Smith has backed the prime minister and Sherwood colleague Mark Spencer is continuing as Leader of the House.
However, two other Tory MPs - Alicia Kearns and Andrew Bridgen - have been heavily critical of Mr Johnson.
Ms Kearns, MP for Rutland and Melton, said on Tuesday that the prime minister's judgement "continues to fail to meet the standards that I and residents of Rutland & Melton, expect".
North West Leicestershire MP Andrew Bridgen has said "the 1922 committee will deal with this turbulent prime minister, it's what it was created for".
Gedling MP Tom Randall, who won his seat for the Tories from Labour in 2019, has also said the prime minister's position is "untenable".
Meanwhile Mansfield MP Ben Bradley said: "Though it pains me as I have always supported him - this can't continue."
Mr Sunak and Mr Javid quit within 10 minutes of each other, followed by a flurry of junior ministers and aides.
The PM cannot be ousted from his post under the current Conservative Party rules, and some ministers have rallied around the PM.