Alex Belfield: Former BBC presenter 'stalked fellow broadcasters'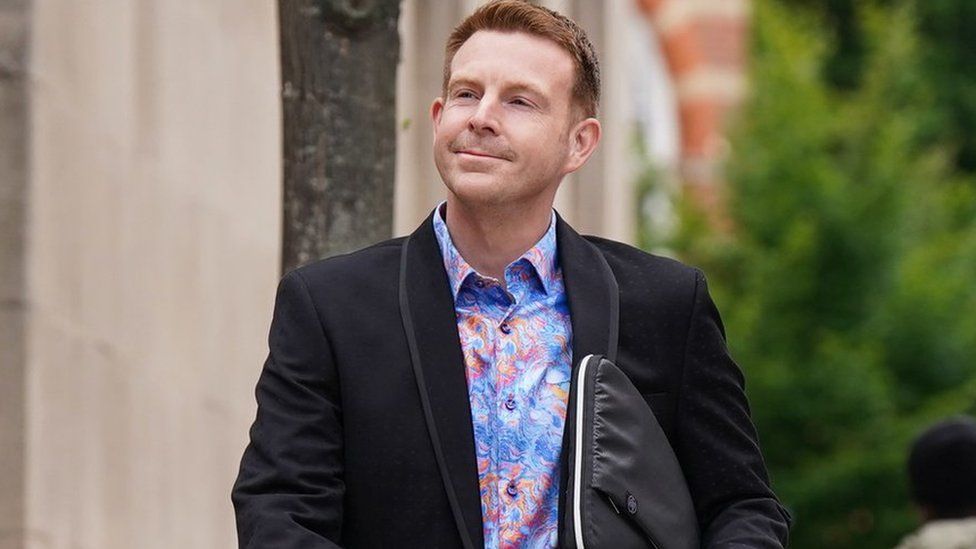 A former BBC radio presenter has gone on trial accused of stalking eight people, including TV and radio presenter Jeremy Vine.
Alex Belfield is alleged to have repeatedly harassed the victims, including via email and through his YouTube channel and Twitter account.
Mr Belfield, who is 42 and lives in Nottingham, denies eight counts of stalking.
When arrested he told police he was "the victim of a BBC witch-hunt".
Mr Belfield, of Shaldon Close, Mapperley, is not accused of physically stalking the eight complainants, but the prosecution said some of them were "worried about the possibility of Mr Belfield turning up at their homes".
Opening the case at Nottingham Crown Court, John McGuinness QC said Mr Vine was so worried "he thought he ought to take security advice for the protection of himself and his family".
The full wording of the charges claims Mr Belfield, who is representing himself at the trial, had "pursued a course of conduct that amounted to harassment" of the complainants, which had "amounted to stalking" and caused them "serious alarm or distress".
The charges cover a time period of more than eight years, and are as follows:
Stalking Rozina Breen between 25 November 2012 and 31 March 2021
Stalking Liz Green between 25 November 2012 and 31 March 2021
Stalking Helen Thomas between 25 November 2012 and 31 March 2021
Stalking Stephanie Hirst between 1 June 2017 and 31 March 2021
Stalking Bernard Spedding between 25 November 2012 and 31 March 2021
Stalking Ben Hewis between 29 September 2019 and 31 March 2021
Stalking Philip Dehany between 3 November 2019 and 31 March 2021
Stalking Jeremy Vine between 1 April 2020 and 31 March 2021
Mr McGuinness told jurors Mr Belfield was "a broadcaster who has worked in the media all of his life".
"He started out as a broadcast assistant in local radio and then became a radio presenter himself," said Mr McGuinness.
The first three counts on the indictment relate to Mr Belfield having worked as a presenter at BBC Radio Leeds.
He was at the station on a one-year fixed term contract which began in spring 2010, but jurors were told this was not renewed, and Mr Belfield was taken off air before the end of the contract.
One of the complainants was his former colleague, Liz Green, who also presented a show at the radio station.
Another was their boss, Rozina Breen, and Ms Breen's boss Helen Thomas, who was then managing editor.
"Despite the passage of many, many years of time, Mr Belfield continued to take great pleasure in vilifying them to a public audience," Mr McGuinness told the jurors.
One of his "tactics", Mr McGuinness said, was to email his alleged victims and blind copy in their colleagues.
Giving evidence, Ms Breen said Mr Belfield sent at least 4,000 emails either to her or in relation to her, and tagged her in "demeaning" tweets.
He did so even after she left BBC Radio Leeds to take up other positions within the BBC, she said.
"I felt I could never escape," Ms Breen said.
"I thought if I left Radio Leeds he would go but wherever I went he would send an email.
"My fear was that he would hound me wherever I went. He would always be there in my inbox and on my social media."
Another of the complainants was the radio presenter Stephanie Hirst.
Mr McGuinness said Mr Belfield had originally messaged Ms Hirst after she "underwent gender transition from male to female".
"She received a message from Mr Belfield that congratulated her on her bravery, and about being open about her transition," said Mr McGuinness.
However, Mr Belfield allegedly started harassing Ms Hirst after she got a job at BBC Radio Leeds, presenting the mid-morning show which he had previously presented.
"She became aware that Mr Belfield was posting tweets about her," Mr McGuinness said.
"He was critical about her show and said she had only been hired by the BBC as a box-ticking exercise."
In relation to Jeremy Vine, Mr McGuinness said the harassment began after the BBC gave £1,000 to a memorial fund for a radio executive called John Myers.
Mr Vine also donated some of his own money, the prosecution said, and presented a cheque to Mr Myers' widow.
Mr Belfield then accused Mr Vine of stealing the £1,000, jurors were told.
"There was a wave of abuse directed by Mr Belfield towards Mr Vine," said Mr McGuinness.
Jurors were told that Mr Belfield created a series of YouTube videos about Mr Vine, and encouraged his followers to contact Mr Vine's radio show and TV programme.
It is claimed he asked them to get on air and then say to Mr Vine: "Alex Belfield wants to know where the thousand pounds is."
"Mr Belfield had become fixated on this sum of £1,000 that the BBC had donated to the Myers memorial fund," said Mr McGuinness.
Related Internet Links
The BBC is not responsible for the content of external sites.