Cost of living: Nottingham academy makes prom free
By Amy Phipps & BBC Radio Nottingham
BBC News, East Midlands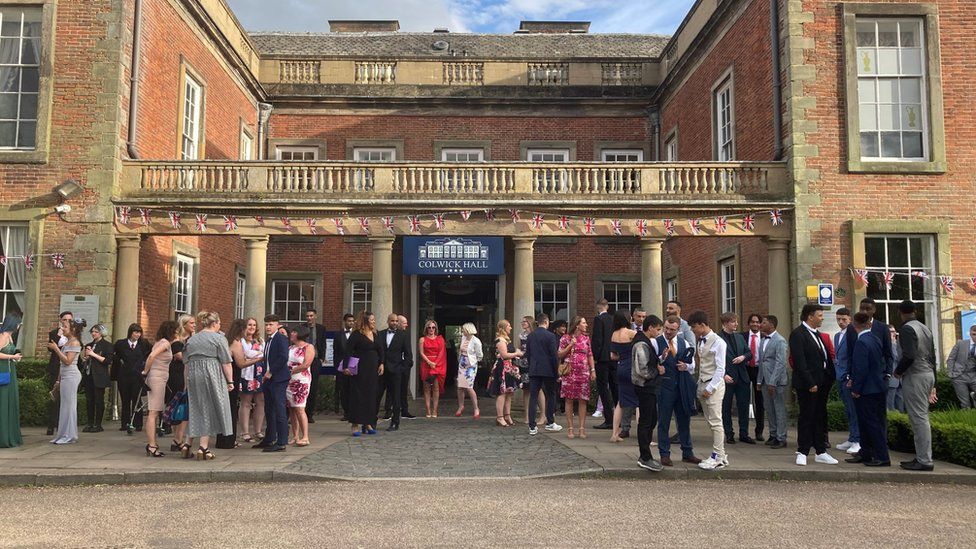 A Nottingham academy has paid for all of its Year 11 pupils to attend their prom so that it could be accessible for everyone.
The Wells Academy held its first ever prom on Tuesday at Colwick Hall - a venue chosen by its students.
Principal Marcus Shepherd said the event was a "rite of passage" and he did not want anyone to feel excluded if they could not afford a ticket.
He said it had been a difficult exam period following the pandemic.
The Wells Academy opened in September 2020 having previously been a Nottingham Academy campus.
The pandemic meant this was the first year it was able to host a prom for Year 11 students celebrating the end of their GCSE exams.
Mr Shepherd said pupils were "very passionate" about having the event at Colwick Hall - the Georgian country house mansion, which was once the ancestral home of Lord Byron.
"They wanted the backdrop, they wanted the photos, they wanted the glitz and the glamour," he said.
Mr Shepherd said the school had decided to make the prom free to attend as part of a plan to raise achievement levels.
"We didn't want to barrier off any of our kids to not go to what we feel is a rite of passage.
"It can be quite expensive and I think what's important if you're going to do a celebration event like a prom, you've got to make it accessible.
"If not, it's not a celebration.
"When I was in their position I wouldn't have been able to afford a £40 prom ticket."
The event included a meal, entertainment and some awards for the pupils.
Related Internet Links
The BBC is not responsible for the content of external sites.