Channel swimming group could become oldest to reach France
By Jennifer Harby
BBC News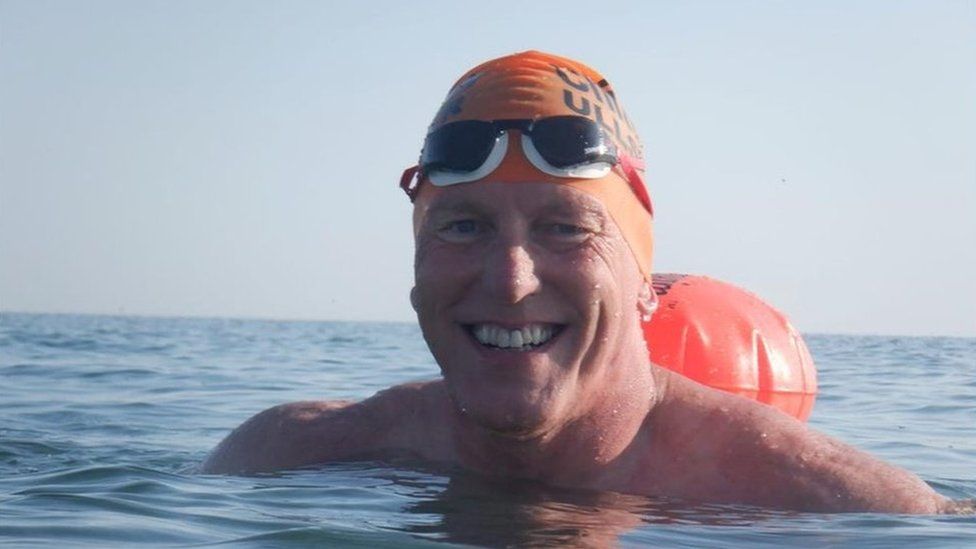 A group of charity swimmers hope to become one of the oldest mixed relay teams to swim the English Channel.
The Robin Hood Swimmers, who are from Nottinghamshire and Derbyshire, are planning to start their attempt between 3-10 July, depending on conditions.
They hope to complete the challenge in less than 16 hours to raise money for Dementia UK.
Team captain Pete Moyes said: "All of our families have been impacted by dementia."
Mr Moyes, from Newark, said the group planned to set off from a point near Folkestone, in Kent, to swim to Cap Gris Nez in France.
Each team member plans to swim for an hour at a time before another swimmer takes their place. The team will be accompanied by a small fishing boat.
Mr Moyes, 61, a charity chief executive, said: "This is the biggest challenge we have ever faced.
"We are all seasoned swimmers but we were mainly pool swimmers. Once we decided to do the Channel, we started doing some open water swimming and two of us are in a triathlon club."
He added friends and family considered the group to be "a bit mad".
"If you love swimming, there's this challenge staring at you and that's why we're doing it," he said. "But our main motivation is to raise funds for dementia."
The team hope to raise £5,000.
"All of our families have had somebody suffer with it and you realise how much it impacts on people," he said.
He plans to swim the distance - which is 21 miles (33km) but works out at about 30 miles (48km), given it is not direct - together with Theresa Tomlinson, 50, from Retford, Phil Field, 57, from Newark and Anne-Marie Lawrence, 57, from Stanton by Bridge.
He said: "Based on conversations with Guinness and the Channel Swimming Association [CSA], we believe we will be the oldest mixed relay team if we get a certificate of completion."
A CSA spokesperson said if the four completed the swim within the CSA rules, they believed they would be the oldest four-person mixed relay team to do so.
"More and more people are now doing relays, when once it was only deemed as a solo swim," she said.
"We wish the Robin Hood Swimmers the best of luck on their swim next week - it will be a memorable experience for them."
Martin Bishop, director of fundraising, marketing, communications and policy at Dementia UK, said:  "We are hugely grateful to Pete Moyes, Theresa Tomlinson, Phil Field and Anne-Marie Lawrence for taking on this incredible challenge of swimming the English Channel for the charity."
Related Internet Links
The BBC is not responsible for the content of external sites.