Gunthorpe angler has near-miss with suspected landslip
By Amy Phipps
BBC News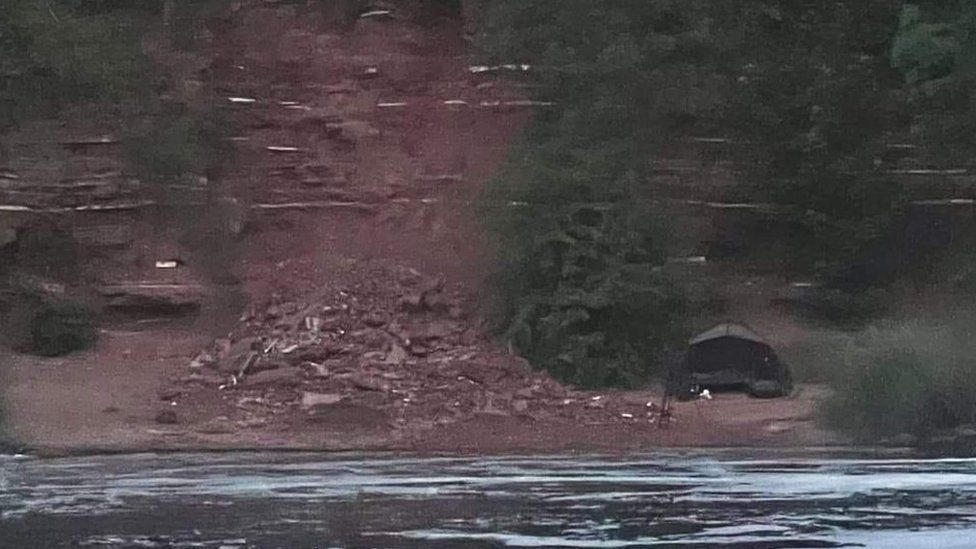 A "very lucky" angler narrowly avoided being crushed by a mound of rubble that fell from a cliff in Nottinghamshire.
The suspected landslip happened near Gunthorpe Lock on the River Trent at about 17:00 BST on Tuesday.
Ian Potts, who was on an island opposite the bank at the time, said the fisherman could have been killed.
Nottingham Anglers Association, which owns the land, said it might need to close the area to keep members safe.
Mr Potts, 46, said he was called over by a friend just after the rubble had fallen.
"I saw all the dust where it had all fallen down - it took about five minutes for all the dust to clear after," he said.
"Then you could see that basically the bloke was very lucky.
"If it had come down where his bivvy was he could have been killed."
David Turner, the secretary of Nottingham Anglers Association, said it was the third landslip in the area in the past 10 years.
However, he said the other two were not on the association's land and were in "completely different circumstances".
"We've had the fishing rights down there for over 30 years and there's never been an incident like this before," he said.
"We've got water bailiffs down there and if they thought there was any problem with that cliff face, or it was showing any signs of crumbling, they would have told me."
He said the angler at the bottom of the cliff had not yet been in contact to report the near-miss.
"For the meantime we're going to have to block it off and tell them they can't go down there," he said.
"It might be that we have to block it off permanently if there is a danger.
"Thank God the bloke was fishing where he was, close to the weir, because if it had been another five or six yards downstream, he probably wouldn't have been with us."
Related Internet Links
The BBC is not responsible for the content of external sites.