Nottingham boxing gym facing closure due to rent increase
By Simon Hare & Samantha Noble
BBC News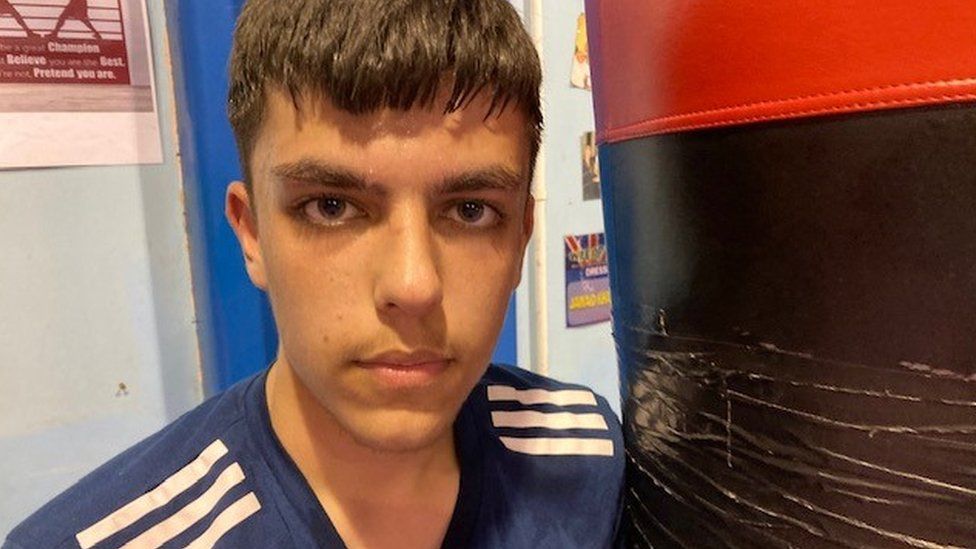 Teenagers who use a boxing gym facing closure due to an almost four-fold rent increase have said they will be lost without it.
Former world champion Jawaid Khaliq runs an academy at the Sycamore Centre, in St Ann's, Nottingham, but says the monthly rent is due to increase from £368 per month to £1,462.
Boxer Dwen, 14, described the academy as a "second home", going most days.
The Renewal Trust, which sub-lets the venue, has declined to comment.
Dwen said: "It is like our second home because nearly every day we are in here, training. When they said we might close down, I was thinking to myself what would I do without it."
Muhammed, also 14, added: "I have been here for six months and I would really like to carry on and get promotion. If it closes down, I will probably be wasting my time outside and getting into trouble."
Mr Khaliq, who was known as "Too Sleek" Khaliq during his own boxing career, gained the IBO welterweight title in 2000 before retiring in 2004.
He has since been passing on his skills to youngsters.
Mr Khaliq, who has run the academy for 15 years, said: "I like giving back, I like helping. I see the difference I make with some of the kids and how they look up to me. It's just a great feeling.
"To be involved in something I still love, it's just amazing."
He said the rent increase was "not something that we can sustain".
"We are only a small boxing gym. We try to charge a reasonable fee so that kids can access this and do what they want to do. To be charged that kind of price is crazy," he said.
Mr Khaliq, who holds classes for about 100 people every week, said he hoped local businesses might offer to help towards the extra cost.
"We are doing out best. We are not going to give up without a fight. We don't want to go so we are going to do all we can," he said.