Sherwood: BBC drama's 'Notts Forest' reference angers fans
By Gavin Bevis
BBC News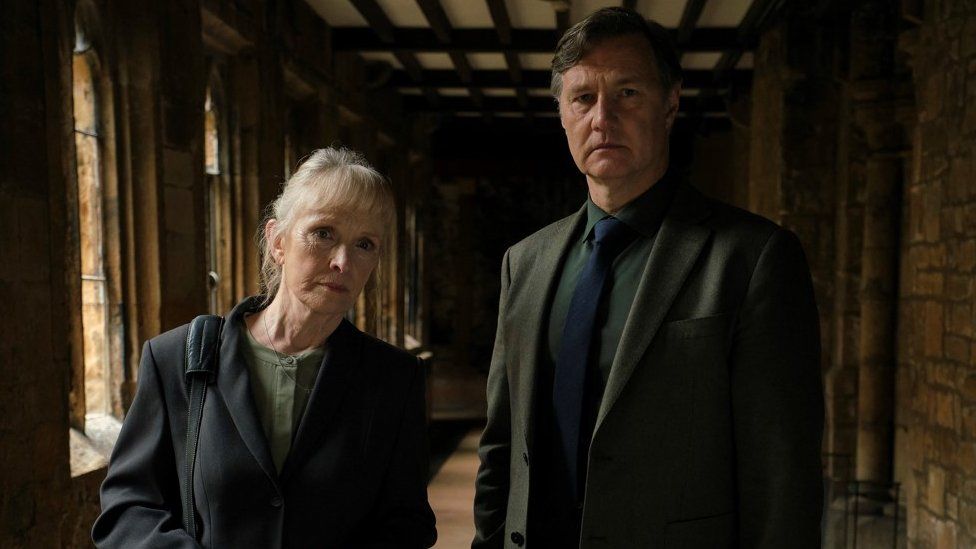 The writer of a new TV drama has responded after being inundated with complaints about a character referring to Nottingham Forest as "Notts Forest".
The scene in Nottinghamshire-based BBC series Sherwood angered many Forest supporters who despise the term.
Some assumed its inclusion in the script must have been a mistake.
But James Graham, who is from Nottinghamshire himself, said the wording had been chosen deliberately for several reasons.
The six-part series, which stars Joanne Froggatt, David Morrissey and Alun Armstrong, is about a murder investigation in a former mining community in the county.
The scene which angered Forest fans saw Armstrong's character Gary chiding a boy who had never heard of Trevor Francis.
"First million-pound player, Notts Forest, centre forward, 52 caps for England," he said.
Supporters - who dislike the phrase as it wrongly abbreviates the county rather than the city - quickly took to social media to voice their disgruntlement after it aired on Monday evening.
One wrote: "You come and film a show *in* Nottingham and make that error. No, duck. Do your research."
However others speculated the phrase was intended to show the character's roots lay elsewhere.
This morning James Graham took to social media himself in an attempt to explain.
He tweeted: "On the hundreds of messages about "Notts Forest", you are of course absolutely right.
"A true fan would never. I can (sort of) explain. The reasons were mainly character and accent.
"Because of Gary's (Alun Armstrong's) history and politics, we thought no way he'd be a fan, supporting a northern team (inspired by real characters, this was loosely the case). And he's talking to a child.
"But the less satisfying reason is, by wanting local accents on screen - I worried "Nottnm" wouldn't register for wider viewers and for non-footy fans Forest is just a forest.
"My bad. Know it frustrates fans. I'll make amends. Please let me back into the city. Proud of your pride for your team."
The second episode is due to be shown later.