Sherwood - the Nottinghamshire strike that divided a town
By Liam Barnes
BBC News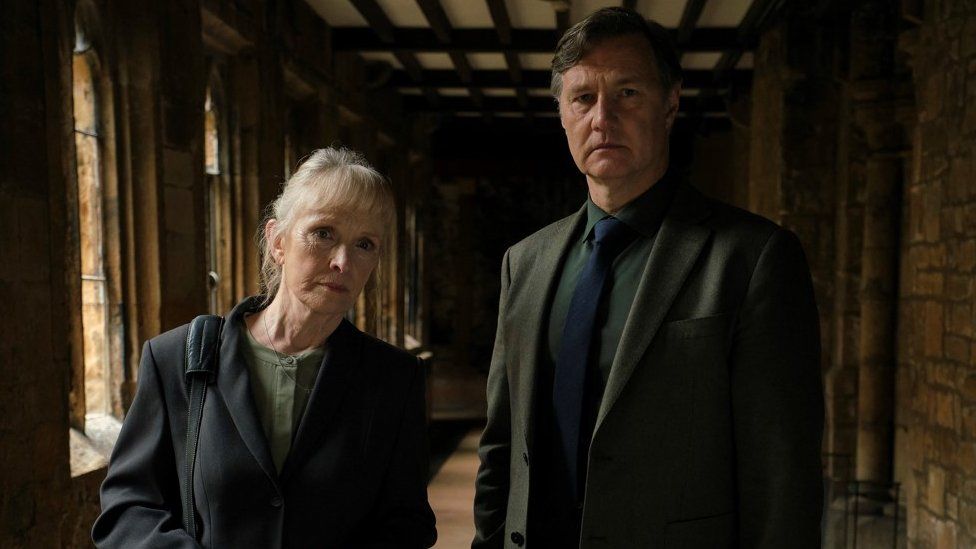 Two murders and the toxic legacy of a dispute that drove families apart are at the heart of a new drama. Sherwood, which starts on BBC One on Monday, follows two police officers in a community still scarred by the divisions laid down during the miners' strike two decades earlier.
Dramatist James Graham, who grew up in Sutton-in-Ashfield, a town that lies within striking distance of Nottinghamshire's former coalmines, was a student in 2004 when his community was rocked by two killings and a massive manhunt.
"I'd gone away to study and then came back and was living in the community a few streets away from where one of the tragedies happened," he says. "So I feel as if my family were around and remember it very keenly. I think most people do."
His new six-part drama Sherwood, which starts on BBC One on Monday, draws loosely on the events of that time. It tells a fictionalised tale of undercover police officers infiltrating a community still divided by the events of the miners' strike.
As the drama unfolds, the effect of two murders reignites painful memories of the strike in Nottinghamshire, especially the divides between striking and working miners.
By looking at people on the picket lines, miners in the collieries and the police officers facing both sides, Graham says the drama aims to re-examine the seismic struggle from all angles.
"What I hope I do is to give a voice to all the different viewpoints, like giving a voice to the police officers put in a situation where they're policing their own families and friends," the 39-year-old says.
However, he acknowledges the legacy of the real-life killings remains painful.
"These are very difficult stories to tell because the pain of them and the level of emotion they provoke still is very real for the people involved," he says. "Understandably there were lots of questions from people, and rightly so, but I was moved and taken aback by the openness people in the community had about putting these issues on celluloid.
"It was my huge privilege to work with quite a few of the people involved [in the cases].
"In order to spare them the trauma of going through it again, we have fictionalised the dramas with new characters and new stories but it's certainly inspired by what it was like to grow up in these communities."
The cast he has assembled to tell the story is heavyweight: David Morrissey, Robert Glenister, Joanne Froggatt, Alun Armstrong, Adeel Akhtar, Lindsay Duncan and Lesley Manville, to name but a few.
Graham - who has won awards for plays and dramas based on real-life events and people such as the run-up to the 1979 general election, Rupert Murdoch and the "Coughing Major" quiz scandal - says he hopes the drama will show the lasting legacy of the bitter dispute across close communities.
"A big part of this story is about the Metropolitan Police, who were in the county in 1984 to police the miners' strike, having to return to launch this manhunt," he says.
"For people who grew up in Nottinghamshire in the former pit villages, this painful stuff split families, it tore friends apart. I know from my own experience, some of those tensions are very real. Without sentimentalising that, I do think that telling these stories can interrogate those difficult things."
What is the background to Sherwood?
The events of Sherwood are a fictional take on real-life events.
During the miners' strike of 1984-5, while most of the UK saw collieries and pits stop and close, many miners in Nottinghamshire carried on working.
The decision led to lifelong feuds with those who chose to man the picket lines.
Decades later, friends and neighbours were still going to different pubs or crossed the street to avoid meeting those who had chosen the other path. In July 2004 the national spotlight shone once again on the area, as ex-miner Keith Frogson was found murdered outside his home in Annesley Woodhouse. It led to a major manhunt to track down Robert Boyer, who was later detained in hospital indefinitely for the killing.
The death weeks later of newlywed Chanel Taylor - killed by her father Terry Rodgers, who died while on hunger strike before his trial - added to the tensions in a still-divided community.
David Morrissey plays Det Ch Supt Ian St Clair, a local policeman who is paired with a colleague from London to solve the cases.
"Although I knew about the Nottingham story, digging into it I didn't know about how divisive it had been," he says. "It was fascinating to hear the stories from the picket line, but also when they went back to work.
"There was a whole shame about people who had fought for the mines and been betrayed, and the people who were on strike and felt vindicated. I was so fascinated by its relevance to today. Communities started to feel let down by the government, that they were being lied to in some way."
Downton Abbey star Joanne Froggatt, who was just a child when the miners' strike took place, says the unique tension that underpins Nottinghamshire's experience of the dispute is what shines through in Sherwood.
"I always had a relative understanding [during the strikes], but I have had to gain an understanding about what happened to these communities," she says. "James has done the most incredible job - he's done something really ground-breaking on this story."