Nottingham students stop fire in elderly neighbour's home
By Tom Oakley
BBC News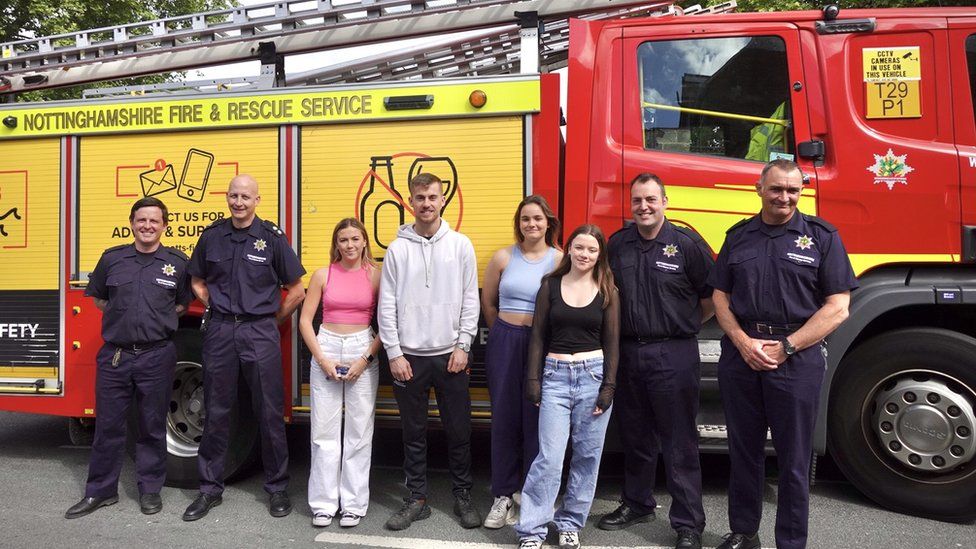 Students came to the rescue of their elderly neighbours when a fire threatened to engulf their home in the middle of the night.
Firefighters praised the group after the blaze started in the kitchen of the house in Teversal Avenue, Nottingham.
An elderly woman, whose husband was still inside, had been alerted by the smoke alarm and called to her neighbours for help.
The students rushed round and stopped the fire from spreading further.
They turned off the stove, removed the pan and opened windows to let the smoke out.
The group, a mix of University of Nottingham and Nottingham Trent University students, then stayed with the couple until firefighters arrived.
Nottinghamshire Fire and Rescue Service has praised the group for their quick-thinking actions in tackling the fire, which broke out at about 01:30 BST on 7 May.
A crew from Highfields Fire Station returned to the street this week to thank the students for their efforts.
Crew manager Paul Snowden said: "We could have been dealing with a much more serious incident had it not been for the quick thinking of these young people who rushed in to help their neighbours.
"If you face a fire in your home our advice is to get out, stay and call 999 but we wanted to come back to recognise the actions of these students who stepped up to help when they were needed."
Related Internet Links
The BBC is not responsible for the content of external sites.