Parents fear babies still at risk at Nottingham hospitals
By Michael Buchanan & Caroline Lowbridge
BBC News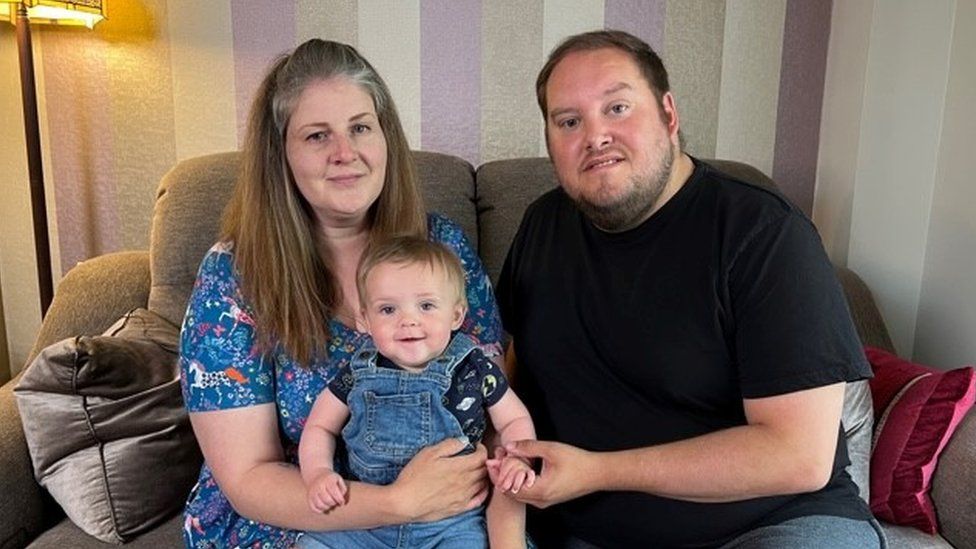 The parents of a baby who died after failings by maternity staff in Nottingham say they are "very concerned" problems remain years later.
Donna Ockenden, who led an inquiry into the Shropshire maternity scandal, has also been appointed to chair a review into Nottingham's maternity services.
It follows dozens of baby deaths.
After studying the CQC report, Mrs Andrews said: "We're very concerned. We think there's been a very long time since Wynter died, since the recommendations were made by the coroner.
"There has been a very long time for the trust to rectify these, and we feel it's concerning there are still such problems going on."
NHS maternity services in Nottingham are based at the Nottingham City Hospital and Queen's Medical Centre, and were initially rated as inadequate in 2020.
In November 2018, almost a year before Wynter died, a group of whistleblowers including midwives and midwifery support workers wrote to the chair of Nottingham University Hospitals (NUH) NHS Trust.
They described "inadequate staffing" as the "cause of a potential disaster". They also said staff were "burnt out" and "working in fear".
Mr Andrews said his daughter's death was "the disaster that was foreseen".
"There's a national shortage [of midwives], which we recognise, but I think the problem at Nottingham is the problem was allowed to get so bad, I think it was in excess of being kind of 70 midwives short," he said.
"Then when you read the 2018 whistleblower letter that warned of the culture and the treatment by managers of staff, and they were leaving as a direct result, it's worrying and we're now in 2022, and we understand that actually midwives aren't happy and people have been leaving."
Mrs Andrews said she was "delighted" Donna Ockenden had been appointed to lead the review in Nottingham.
"We feel it's something that has been much-needed. Families need to have confidence in the review, and it needs to make real and meaningful changes going forwards," she said.
The original review, which has concluded and published its interim report on Thursday, had faced sustained criticism from families and campaigners over its remit and independence.
Mr Andrews said Ms Ockenden's appointment was a "beacon of light".
"It was apparent that the review that we did have, it was widely accepted that it wasn't fit for purpose, it was woefully inadequate," he said.
"She [Donna Ockenden] comes with the respect of kind of a network of bereaved families, in Shrewsbury and Telford, and she's truly independent."
Kimberley Errington, whose son Teddy died in November 2020, said she was not surprised by the latest CQC report.
"It's a reiteration of the usual things, you know, staffing is a major problem," she said.
"It's saying what we knew, where as a lot was coming out in the press about maybe 'Oh, you know, things are getting better', or the NUH board are trying to make it seem like things are getting better, when we know it's not, so at least now it's in black and white and it's out there for the public to see."
Teddy died when he was a day old, after he had been sent home. Ms Errington said her experience in hospital was "horrendous".
"I feel like we were dumped, and we were left for 19 hours abandoned," she said.
"When I did ask for support, which I did numerous times, I was dismissed or made to feel like a nuisance.
"So by four o'clock that next morning, when they said I could go, I wanted to get out and get home so I could have some support."
Teddy then collapsed at home and was taken to the Queen's Medical Centre, where he died.
Following an inquest, assistant coroner Laurinda Bower said his cause of death was "unascertained" but midwives had failed to monitor his blood sugar levels before he went home.
In response to the latest CQC report, Sharon Wallis, director of midwifery at NUH, said: "Our teams are working hard to make the necessary improvements, but recognise we have more to do and are absolutely determined to speed up the pace of change and deliver quality services for women and their families."
Related Internet Links
The BBC is not responsible for the content of external sites.