Nottingham maternity review: Donna Ockenden confirmed as head
By Greig Watson & PA news agency
BBC News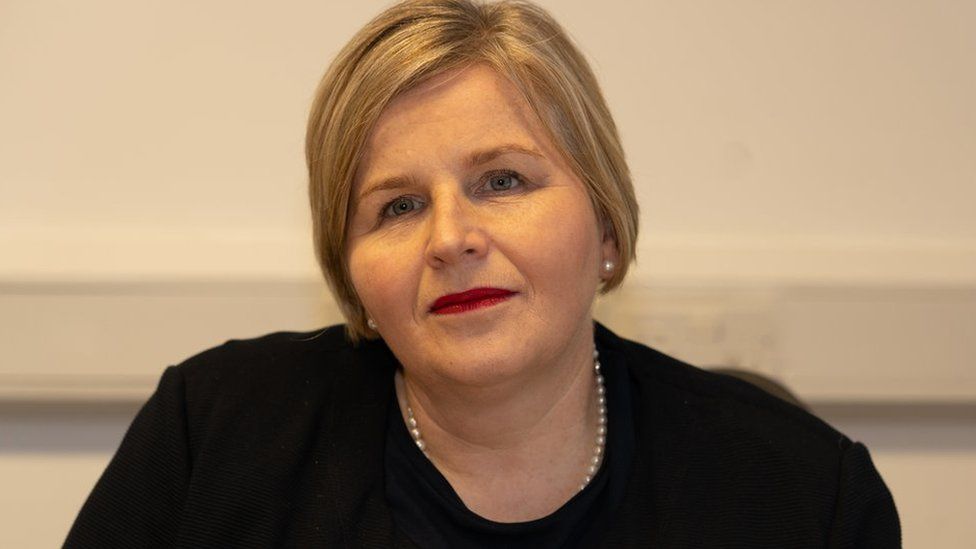 Donna Ockenden, who led an inquiry into maternity failings in Shropshire, is to chair a review of services in Nottingham.
They said its remit was too narrow and it was not independent enough.
Now NHS England has confirmed Ms Ockenden will lead a new team with new terms of reference.
Maternity services at Nottingham University Hospitals Trust have been rated as inadequate since 2020.
Many also felt the locally-based inquiry team had neither the experience nor independence to deal with such a large-scale issue and had taken their concerns to Health Secretary Sajid Javid.
Now NHS England has written to the families to confirm a major shift in approach.
'Urgent improvements needed'
In the letter Sir David Sloman, chief operating officer for NHS England and NHS Improvement, said he had "taken on board various views that you have shared with us".
He said the current review was not fit for purpose and the team involved would conclude their work by 10 June and produce an interim report.
"I can confirm that Donna Ockenden has agreed to chair the new review and we will work with her to develop a new terms of reference that reflects the need to both drive urgent improvements to local maternity care and the need to deliver actionable recommendations that can be implemented as quickly as possible," he said.
A timescale would be confirmed as soon as possible, the letter continued.
In March, a report into Shrewsbury and Telford NHS Trust, chaired by senior midwife Ms Ockenden, said more than 200 babies may have died through failures in care over 20 years.
By Michael Buchanan, BBC social affairs correspondent
This announcement is a total vindication of the families' campaign to turn what had become a shambolic inquiry into a robust review.
But the efforts they've had to go through should be a source of shame for the leadership of the NHS.
Some of them felt compelled to publish personal details of their babies deaths on social media in a desperate bid to be heard by NHS England and the Department of Health.
There is now a better chance than ever for the failings in Nottingham's maternity services to be uncovered and for ongoing and future care to be as good as every one of these parents wish it had always been.
A statement on behalf of the families affected by alleged failings at maternity units in Nottingham expressed "immense sense of relief" at her involvement.
"Donna Ockenden's appointment is a significant step towards restoring confidence in Nottingham maternity services," it said.
"We are confident that she will conduct a robust review to ensure the scale of failings at NUH are recognised and essential improvements are made."
Earlier this month, the review team said it had been contacted by 590 families.
Related Internet Links
The BBC is not responsible for the content of external sites.