Hunter White: Baby died after father fell asleep on sofa
By Caroline Lowbridge
BBC News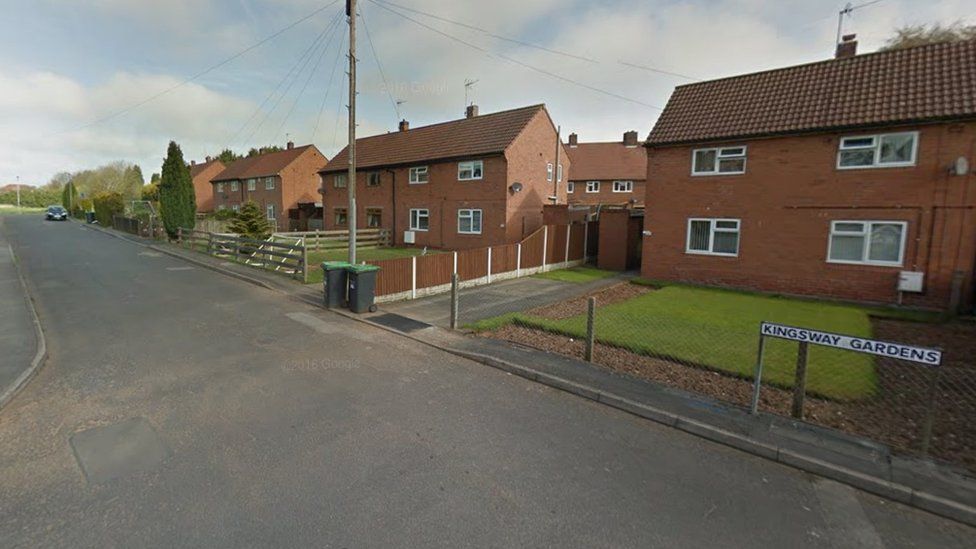 Two parents have been sentenced for cruelty to a baby who died from asphyxiation after his father fell asleep on a sofa while holding him.
Nottingham Crown Court heard two-week-old Hunter White could not breathe after he slipped down between his father and the sofa.
The court was told father Adam White, 32, had been smoking cannabis.
White was given a 12-month suspended sentence while Terri Walters, 45, was given a two-year community order.
Judge Gregory Dickinson QC said he had "rarely seen somebody so racked with guilt" as the baby's father.
"I believe that this will haunt you for a very long time, and I say that not to be cruel, but to recognise that you have already suffered that punishment and will continue to do so for what was ultimately an error of judgement, not deliberate wrongdoing," he said.
Hunter was born on 23 June 2020 and died on 10 July. He was usually in the care of his mother, while his father lived elsewhere.
The judge said Hunter died after his mother went to bed, leaving him in the care of his father, who had been smoking cannabis.
The court heard Hunter's parents "habitually used drugs", with the mother using cocaine and the father cannabis.
Hunter was in a Moses basket while his father slept on the sofa.
"Twice during the night, Adam White, you fed the baby. After the first occasion you returned Hunter to the Moses basket," the judge said.
"On the second occasion you fell asleep while still holding the baby. Hunter slipped between you and the arm of the chair, face down, and Hunter could not breathe.
"The prosecution have referred to you smothering the baby. In fact, you did not. This little baby, being face down, could not breathe. It is what the doctors call positional asphyxia."
Hunter was pronounced dead by paramedics at his home in Kingsway Gardens, Hucknall, Nottinghamshire.
His parents were originally charged with a more serious offence of causing or allowing the death of a child, but this was changed to cruelty to a child by way of neglect.
This was because the prosecution said there was no "causative link" between the actions of the parents and the death of their child.
The judge said he had to sentence the parents "in accordance with the charges and the evidence", explaining he was "not comfortable" with the sentences he was imposing.
"The tragic fact is, Mr White, that had you returned the baby to the Moses basket the baby would still be alive, and from your demeanour today, and every occasion I've seen you in court, I think that you think of little else," he said.
Following the sentencing, Det Sgt Simon Harrison said he hoped the case would be a warning to other parents.
"This has been an incredibly tragic case and highlights the significant dangers and consequences of falling asleep with your baby in your arms, especially if you are under the influence of drugs," he said.
However, the judge said he could not be sure if drugs did play a role in Hunter's death.
This was because, he said, the prosecution was not able to show when White had taken cannabis, what the effect on him was, and "to what extent at all that had anything to do with you [White] falling asleep while you had the baby in your arms".
White, of Foxhill Road East, Carlton, had his sentence suspended for 18 months.
He also was told to complete 120 hours of unpaid work.
Walters's community order includes a nine-month drug rehabilitation requirement, which means she must submit for treatment and testing.
Related Internet Links
The BBC is not responsible for the content of external sites.